» Comics - Chapter 2 - 23 - October 15th, 2010, 8:41 pm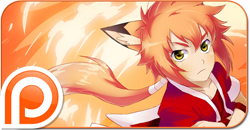 Like Hotarugari? Become a patron and help support it!
Creator's Comments:
salis
, October 15th, 2010, 8:55 pm
- 'Nother update! Whew! And Hotaru made Tanuki cry.

By the way, I've decided to use the computer to letter this comic from now on. I made my own font using my handwriting, so hopefully it won't look too awkward next to the other pages. People have said my handwriting looks like a font anyways, so maybe y'all won't notice. <:3

And thank you so much, everyone, for supporting this comic! I just need one person to enjoy it, (just one!) and this comic is completely worth all the troubles and pain it causes me. And now I have 1572 people to keep me going. ;D Thank you!!

-SAL

Reply:

SolaratheHedgehog - Haha, Hotaru! XD

AvoryAzion - Hotaru is one very mean magical fox! Although he's probably just mean to tanuki for being more awesome. XD

angelbliss - Thanks, Fay! You're so awesome! ;u; And yeah, heehee, we're getting back into the comedy now...

ZivXanthus - You're so nice!! Thank you! Man, I can't think of a smiley face that shows just how much I appreciate you saying that. Maybe this one? m(._.)m I bow to you! You're so wonderful!

torchthewolf - Indeed, such a mean kitsune! But he's definitely not this mean to all the other tanuki. Haha, Hotaru was nice enough to him earlier, but that all changes now that he knows who he is.
I don't mind the note! You're so nice for considering my feelings about it though. Bits of information are always good!

niftyspiffyinajiffy - Oh, you didn't notice? I guess that proves it then! A font is the way to go! XD

day-dream-shteen - Ah man! I should have changed it to a font and not said anything! ;A;

Jazeki - Ho ho, but he is named! >:3 We'll be getting to introductions in the next two pages, so that'll be fun. But yeah, as a general rule for this world, tanuki and kitsune are nameless unless a human gives them one. And thanks! I'm glad you like it!

princuu - Thanks! I hope the font looks just like it. It would save me some time if I didn't have to hand write everything. X3

Joshie - I know! Who would have thought? XD

ChiakiAida - Haha, yes, yes! Only once the tanuki turned human did Hotaru recognize him. >w< And yeah, I was thinking of Pokemon on the second panel. I always feel like challenging people like that. XD Thank you~! And yeah, I can't believe no one noticed it was a font! My hand writing can not be that good. >_<;

MegamanZDevil - Sure thing, dood! Although I have to fix it up a bit, since I don't have lowercase letters or numbers or stuff yet. Making a font sure takes a lot of effort! X_X
And chya~! Not serious scenes are the best! I'm glad we're back into the funny parts so I can draw more chibi Yumi. <3 And thanks so much! Your comments always make me happy. ;u;

look!adistraciton - TOTALLY! Yeah, to Hotaru, all priestesses and tanuki are the same. And he hates them. Shows you how mature he is! XD

kurozaki - Yeah, Hotaru is just jealous of Tanuki's cuteness!

Rin_Soul - Yes, yes! Tanuki is the cutest and pudgiest character here! Which is probably why Hotaru hates him. XD

Remnants of Nana - I know. All Tanuki really wants is to be friends with Hotaru, but Hotaru is far too mean. You'd think saving his life would put him in a better mood. XD

kate0808 - He is! He is! But that's probably because he's bullied by other kitsune a lot, so he feels better putting someone else down. But yeah, Hotaru gets into a lot of fights. He's got rivals everywhere. LOL

Iron - Ahaha, not even if you knew what the cutest tanuki in the world did to him to make him act this way? Hotaru has his reasons for being so bent out of shape, although they're not entirely good ones. <:3

RainRose - I know! That face! That face of cuteness deserves kinder words than the ones Hotaru is giving him.

SmokeyMountain - Cute little tanuki dude! >w<

Profanity00 - That's right! This tanuki can do much better transformations than Hotaru, which really ticks him off. Not to mention they are love rivals for a girl who has not yet been introduced. XD
And thank you so much! ;v; It's good to know there's another out there who finds Yumi as cute as I do. <333

BBShadowCat - Exactly! Now if only this tanuki had the courage to tell this kitsune off!

Kinshima - Thank you! :3 I really like her expressions too. She's definitely the most fun to draw!

roxxihearts - Haha, I know! And it almost looks like she has a uni brow on that panel, LOL. XD

Everlong - Haha, actually, I'm sure Hotaru is just making that up to hurt this tanuki's feelings, but that makes it all the more mean. XD

Gnigma - LOL, yeah, Yumi has been wishing that ever since he turned human. But maybe even more so now.

bergasms - Hmmm... I think that's the last we'll see of her. Spider lady was just for the purpose of these two chapters, and although she is one of my favorite characters in this series, we won't be seeing any more of her in this particular story. And thanks! It's so nice to hear you're enjoying this comic! I'll do my best to keep it updated! :D

Hyli_Tuben_Mechanic - Haha, yeah, but don't feel too bad for tanuki! That's just Hotaru's way of getting back at him for being so cool. >:3

CharmedbyFire - Haha, and here I thought people wouldn't like Hotaru anymore after seeing how mean he can be. But yes, you're so right! Tanuki does not like being anyone's enemy. :3

TheStealthOne - Fixed! Thanks for catching that typo!
Advertisement
, May 29th, 2017, 3:45 pm
-
Reader Comments:
HOTARU! >:(

posted by SolaratheHedgehog on October 15th, 2010, 8:56 pm








Yes, Hotaru is pretty mean!

posted by AvoryAzion on October 15th, 2010, 8:57 pm








ASDFJHASDVONE !
YOU'RE SO VERY VELCOME SALIS ;D
pssssh I wills always be's herrr for youuu 8D , && good luck with your special font lol,
HOTARU;; you never fail to amuse me o u o

posted by angelbliss on October 15th, 2010, 9:07 pm








Oh people will definitely watch it! I know I would and I'd definitely force my friends to watch it :P Its a great manga and I know it is just going to get even more awesome! :D

posted by ZivXanthus on October 15th, 2010, 9:14 pm








Such a mean Kitsune... I hope he isn't that mean to all tanuki. Or even Okami for that matter.

Note: (This is basically for the readers.) For those you that see the word "Okami" and think of a game by the same name do not be confused. Okami (If written right.) in Japanese means Wolf. Just as Kitsune means Fox, and Tanuki means Raccoon Dog. just thought I would give that bit of book worm information.

@ Salis:
If you get mad at me for this for some reason then I am sorry and I will edit and remove part of my comment upon your request.

posted by torchthewolf on October 15th, 2010, 9:18 pm








WHOA WHOA WHAT

that was handwriting? i totally did not notice.

posted by niftyspiffyinajiffy on October 15th, 2010, 9:57 pm








...........I never noticed that everything was in your handwriting. *shot* XD

posted by day-dream-shteen on October 15th, 2010, 10:10 pm








I was about to ask why Tanuki isn't named like Hotaru, but then I realized he's not anyone's possession. Your handwriting is so awesome BTW.

posted by Jazeki on October 15th, 2010, 10:45 pm








But I love your handwritting :c
Its neat.. x3

posted by princuu on October 16th, 2010, 12:06 am








O.o Well, what an unexpected turn of events!

posted by Joshie on October 16th, 2010, 1:41 am








"Wait,what?" I am the same here!;)) oh my, only AFTER tanuki saved them hotaru noticed it. "ultimate nemisis" , yes? I can't really dream of Tanuki-kun to be that bad " and at the second panel, I just suddenly remember of pokemon :)) or yu-gi-oh ? XD is just really funny that panel and I just love you chibis~ >w<~ And whoa~ I honestly didn't noticed that you made yourself a font! Your handwriting really is too good I guess ?>w<

posted by ChiakiAida on October 16th, 2010, 5:05 am








dude DUUUDEEE I want your font then. *p*
oh~ we're back to not serious scenes. yeaaahhhh /// fdsfhg the fourth panel, oh man. mucho cute. at least Hotaru has a valid excuse for not noticing Tanuki-- though that is so mean. I bet he smells like trees. huff huff ///

posted by MegamanZDevil on October 16th, 2010, 6:16 am








THAT'S RACIST! or SPECIEIST! lol It's still funny though!

posted by look!adistraction on October 16th, 2010, 8:22 am








Awww, Tanuki, you're awesome, he's just being silly! *huggles*

posted by kurozaki on October 16th, 2010, 8:58 am








Poor Tanuki! >.< And to think he just saved Hotaru's life too! (I think he wins this round for that~)

posted by Remnants of Nana on October 16th, 2010, 12:08 pm








Hotaru is a bully. XD
Hotaru has rivals? He must get around alot.

posted by kate0808 on October 16th, 2010, 12:33 pm








Oh noes! he made the cutest tanuki ever cry! I won't forgive >:<!

posted by Iron on October 16th, 2010, 2:41 pm








Hotaru! How can you be so mean to such a cute face?!!

posted by RainRose on October 16th, 2010, 2:59 pm








Hm... Since they can both transform, they probably are rivals over who can do better transformations!

And ahhh!! I know I've said before how cute Yumi is but... Panel 4, man!! She looks so attractive! ; _ ;

posted by Profanity00 on October 16th, 2010, 4:06 pm








Hahaha an ultimate nemesis and arch rival who just saved your butt!

posted by BBShadowCat on October 16th, 2010, 8:38 pm








Your font looks super neat x3. My writing is pretty messy. I like Yumi's expression in panel 2~

posted by Kinshima on October 16th, 2010, 10:19 pm





LOL I love her extremely unamused face in panel two xD like "God, wtf is it now? :l"

posted by roxxihearts on October 17th, 2010, 4:40 am








Awwww poor little fella D:

(A bath might not hurt though if he really does smell XD)

posted by Everlong on October 17th, 2010, 8:10 am





I thinking Yumi is starting to question the idea of finding a diffrent Kitsune as a good one.

posted by Gnigma on October 17th, 2010, 8:31 pm





Will we not see any more of spider lady? She was just misunderstood and probably needs a hug. Also I just read your comic, found it while voting. I like it, it seems fun and your art is good too. Also I thought the text was just fine before hand :)

Berg

posted by bergasms on October 18th, 2010, 8:44 am








I feel your pain, Tanuki-kun.
I actually get that line a lot, as a joke from my friends, being black. XD

posted by Hyli_Tuben_Mechanic on October 18th, 2010, 10:10 am





Hotaru is so cute! Of course he'd have an ultimate arch rival although Tanuki looks like he'd rather not be one.

posted by CharmedbyFire on October 20th, 2010, 1:14 am








lol, Hotaru is kinda mean but funny

posted by AmoriiBlossom on December 12th, 2010, 2:58 pm




Right...?

Thought it is supposed to be "Nemesis" not "Nemisis"

posted by TheStealthOne on February 8th, 2012, 2:00 am








He just saved your life. You could be grateful.

posted by Shannonismyname on August 14th, 2012, 8:30 pm