» Comics - Chapter 2 - 27 - November 15th, 2010, 10:28 pm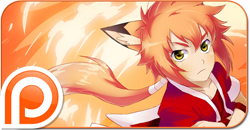 Like Hotarugari? Become a patron and help support it!
Creator's Comments:
salis
, November 15th, 2010, 10:41 pm
- And they're back to fighting again! Although I'm on Yumi's side this time.

Super, super busy week for me. Not good, not bad, just... busy. T__T How are all you guys doing?

-SAL

Reply:

Echocave - Don't worry! I feel the same way! Yumi should punch him one for trying to kill her!
But since they're sworn enemies, Yumi understands a little bit why he did it. And Hotaru is convinced Yumi saved his life simply for her own selfish reasons of wanting to see Ina, so their actions toward each other are justified. XD What's really bothering Hotaru, though, is that Yumi trusted him to come back for her. Trusting the person who just tried to kill you is not right!

ZivXanthus - Aw, thanks so much!! I'm so happy to hear you're enjoying your Hotaru shirt! SO happy! I've been wearing mine, too, and I just love it! Thanks again for ordering, by the way! <3
And your comments always make me smile! The fact that you said they have an "awesome friendship" on the page that's almost completely devoted to them arguing with each other shows me you know the power of love! <3 Although I like to look at it as a brother and sister who fight a lot, LOL.
After exercising and writing an awesome comment, you need to take a break! Get some rest! You deserve it!

Profanity00 - You're right! No love interests here at the moment. (There will be later on, but not between Yumi and Hotaru. Eww, no.) But there is little to no actual romance in this comic. Just pure and utter abundance of brotherly love~!!
Oh, and Yumi notices it's missing at the very, very end of this chapter, (which isn't too far off!) so you'll have to wait until then to find out what happens! :3

Hyli_Tuben_Mechanic - Yeah, if I ever get my other comics up here, you'll notice my underlying message is always the strength and awesomeness of friendship! Love and romance really isn't my thing. XD

torchthewolf - Thank you! And indeed! I'd say Hotaru is definitely the idiot in this conversation. Although he's been without a mentor a great deal of his life, so he makes a lot of the wrong decisions because of that. That's why Yumi's here to teach him a few lessons in common sense, haha.
And thanks! I'll try to have another page up real soon!

Airse - HEE, THANK YOU! <333 It means a lot to me!

ChiakiAida - Thank you! Yeah, I remember days when I used to fight with my siblings too. We hated each other so much, but we were still siblings. And that is Yumi and Hotaru's relationship. But don't worry! I fought a lot with my siblings, but now we are good friends! So that's what happens in this comic, too. :3
"Bozo" is a name for a stupid person or someone who is rude and annoying. It's considered to be slang in the dictionary, so don't worry about not knowing what it means! ;)

MegamanZDevil - Yay! Now stay great! And thanks! >w<
Ho oh, I know! Their bromance gets better as the comic goes on! Such a beautiful thing, bromance be! QuQ I'm especially proud of how Naoki came out on that panel, so I'm super glad you noticed. >//u///<

Everdina - Thank you, Everdina! Drawing Naoki is really fun! A bit hard sometimes, since I'm not used to drawing chubby characters, but I love them! >3< And I'm so happy you enjoyed this page!!
(And don't worry! Same goes for me. I need to think of more questions!)

SolaratheHedgehog - Yay! I got you to laugh! Success!! >8'D
And thank you! This was actually one of my favorites pages to draw, (although it took me forever and a an eternity to finish!) so I'm glad others like it too!
Advertisement
, July 22nd, 2017, 1:34 pm
-
Reader Comments:
Yumi's right hotaru you were very stupid to trust a spider. I sure hope she does something to him
Also even after you tried to kill her Yumi risked her life for you! You should be down on your knees thanking her you ingrateful brat!
(I still love him don't worry)

posted by Echocave on November 15th, 2010, 10:47 pm








oo, well that does make sense. :D
btw, I wore your shirt Saturday! :D It was so comfy <3

And and, they have an awesome friendship! They're basically in love in my eyes lol >.<

I'm sleepy and exhausted. exercised today and i want to faint...lol

posted by ZivXanthus on November 15th, 2010, 11:03 pm








I wouldn't say they've got a love interest going... YET. And yes, I'm on Yumi's side. Wonder when she's gonna notice her missing hairpin.

posted by Profanity00 on November 15th, 2010, 11:46 pm








lol "Ponytail"
They do seem more like a brother and sister than love interests tho

posted by Hyli_Tuben_Mechanic on November 16th, 2010, 12:19 am








Yet another page that is beautifully drawn. Also Hotaru must be an idiot for picking a fight with someone who has control over his transforming ability. I mean Yumi could make him transform into some thing really humiliating like a statue of Naoki!

Well that's enough for tonight. Keep up this comic its really great!

posted by torchthewolf on November 16th, 2010, 12:53 am








GYAHAHA! OMG They're so cuuute <3

posted by Airse on November 16th, 2010, 5:03 am








XD Ohh this page is just so funny, I really think that Yumi wants to punch Hotaru now ^v^ boy, they make me remember of the moments where I fight with my little brother, except that he is 7 >v< . Ohh, I really hope they won't hate each other forever > A < ~ By the way, what means "bozo" ? I heard it before, but I just don't know what it means...and lol to "ponytail" XD

posted by ChiakiAida on November 16th, 2010, 7:25 am








I'm doin' great. /eats your busyness away
ohgod lol I love their bromance. n' the third panel. dfufh Naoki's expression is just so cute.

posted by MegamanZDevil on November 16th, 2010, 7:27 am








I love Naoki's expression! He's so cute and chubby! >3< I loved this page! Really i did ^^

(Yes, I'm still stalking/kinda spamming you, but I'm out of questions for a while =P)

posted by Everdina on November 16th, 2010, 8:10 am





*rolling on floor laughing*
GOD I LOVE THIS PAGE! xD

posted by SolaratheHedgehog on November 16th, 2010, 8:19 am








Ilu Sal, and this is just way to good ROFL!

posted by abdie the hedgehog on November 16th, 2010, 9:00 am








Inuyasha em Kagome... heh?

posted by boorodrigues on November 16th, 2010, 1:38 pm





I'm doing good! =D Besides my cat. >.> BUT THAT"S A DIFFERENT STORY!=D At least your not bored with your week.
I love this comic, and I agree with Yumi. Have at the ponytail boy! >=D

posted by Sindorei on November 16th, 2010, 3:42 pm








Oooooh, what have we here? A fight? GO YUMI! KICK STEVE'S BUTT! XD Sorry, first panel, it should be 'anyway'... I hate bad grammar, I'm sorry for wasting your life I should stop typing!! DX

posted by number1animemangaluver on November 16th, 2010, 4:30 pm








I didn't realize until now, but boorodrigues is right. This story is very similar to Inuyasha. ^.^ Not that I mind, they're both awesome.

posted by Skittsue on November 16th, 2010, 4:31 pm








Naoki may be the best behaved out of the three of them.

posted by Jazeki on November 16th, 2010, 5:18 pm





Oh... Yeah... Ponytail... Great comeback....XD
Now all you need is someone to say your face is a ponytail then you could create a stupid comeback contest!!! XD just kidding!! I love this comic very dearly!!

posted by Katerang on November 16th, 2010, 9:28 pm








these Inuyasha comparisons. /facepalm

posted by MegamanZDevil on November 17th, 2010, 7:10 am








@MegamanZDevil

Haha, thank you for saying that. I thought I was the only person who felt that way. I can totally understand the comparisons, though.

posted by salis on November 17th, 2010, 9:13 am








Ehhh its bot really anything like inuyasha

posted by abdie the hedgehog on November 17th, 2010, 9:18 am







WHAT IS THIS I DONT EVEN

Pffff, the reason I came to visit this page is to see if you replied to the comments, like I usually do but, I just can't believe it!Inuyasha?I've also said something about it in the past, that the tanuki makes me remember about an episode from it. But now,now......the story?similar to hotarugari?not a TINY bit! Grrrr this is just so stupid! I really hope this talk about inuyasha won't continue on the next pages ( o n o )

posted by ChiakiAida on November 17th, 2010, 2:21 pm








I love it when they fight

posted by RainRose on November 17th, 2010, 3:47 pm








No! XD I didnt mean that! Is just cuz the scene of them fighting remember this couple a bit. and i love Inuyasha, so it is good. =w=7

posted by boorodrigues on November 20th, 2010, 11:04 am








*grabs bucket of popcorn & a lawn chair*

FIGHT! FIGHT! FIGHT! FIGHT! FIGHT!

posted by Sound Synthesis on November 20th, 2010, 4:01 pm