» Comics - Chapter 2 - 31 - December 9th, 2010, 12:02 am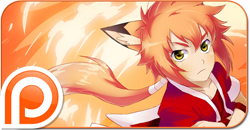 Like Hotarugari? Become a patron and help support it!
Creator's Comments:
salis
, December 9th, 2010, 12:10 am
- "Henge" is the Japanese word for shape-shifting animals with supernatural powers. I was going to keep as much of this comic in English as I could to cut back on these kind of explanations, but I think it actually works out better this way. Besides, this comic is full of henge! ;)

And Naoki is like a textbook on this stuff. >u>;

-SAL

P.S. More fan art on the Art Page! Thank you~!
Advertisement
, May 29th, 2017, 12:50 am
-
Reader Comments:
Finally!! it's like forever waiting! FIRST!

posted by red_grelly_bean on December 9th, 2010, 12:15 am








Fffff, I love Naoki~
/edit: 1st comment? So proud lol ;3

posted by emblem99 on December 9th, 2010, 12:20 am








homigahhh

posted by Harrow on December 9th, 2010, 12:27 am








haha Naoki~
The adventure begins!
Will Naoki be joining Hotaru and Yumi in finding Ina?

posted by Hyli_Tuben_Mechanic on December 9th, 2010, 12:28 am








Oi... Technicalities technicalities can't anyone just take something at its face value? Lower the value enough and it losses its meaning.

Anyway great as always. you're doing a b-e-a-utiful(Been wanting to make that references for weeks!) job! Keep it up!

posted by torchthewolf on December 9th, 2010, 1:04 am








AH! She is going to treat them as equals... Yumi's so nice..

posted by Nym.Katharina on December 9th, 2010, 2:39 am








shh Yumi, don't mention it! you're basically getting free help now. *u* d-.. did I mention how much I love serious Yumi? because, you know, she's so hot right now, bro. n' fdsgj Naoki in the second panel. ;u; aaa idky but he looks so cool there.

posted by MegamanZDevil on December 9th, 2010, 3:22 am





Oh Naoki, you smart Tanooki you =3=
But I wonder when Yumi will realize her hair pin is gone :\

posted by SolaratheHedgehog on December 9th, 2010, 10:33 am








Henge sounds cool, don't worry about it!
And dawwwww Yumi is so nice~

posted by Nitsuru on December 9th, 2010, 10:35 am








I love this page x3 You've got such wonderful characters in this story <3

posted by Machati on December 9th, 2010, 3:51 pm








i LOVE Naoki's face in the third panel!!!

posted by cuzin on December 9th, 2010, 5:54 pm








Ooooh. Debts and such...so is Hotaru being nice or does he still owe Yumi?

posted by Jazeki on December 9th, 2010, 6:50 pm








"whatever they ark for" ? fu fu fu *pervthouts*.... GAAAH get out of my HEAD!!!!

posted by Tessan12 on December 10th, 2010, 7:11 am








she forget that he saved her after traping her, so it probably doesn't count

posted by Ryuchael on December 10th, 2010, 2:41 pm





Lol Naoki you <3
Let the journey begin!

posted by looru on February 3rd, 2011, 6:35 pm