» Comics - Chapter 2 - 34 - December 24th, 2010, 11:38 am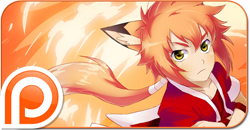 Like Hotarugari? Become a patron and help support it!
Creator's Comments:
salis
, December 24th, 2010, 11:49 am
- And that wraps up Chapter 2! Whew, what a ride! I'll be taking a short week break to celebrate the holidays with my family and prepare the third chapter of Hotarugari!

Happy Holidays, people!

-SAL

P.S. Thanks for all the comments!! I read every single one! (even on old pages!) And thanks for all the fans as well! :)

Reply:

pipe odel - You're gonna have to wait until next chapter to find out... >;3

MegamanZDevi - ;u; *highfives* Thanks! I was a little worried I wouldn't finish in time, (I have a party to get to!) but this makes for a great early Christmas present for the fans of Hotarugari! X3 JKFLKDSJDKJ I LOVE YOU, TOO.

pokesam - You're close! It does have something to do with Ina. Although I won't say what just yet!

HolyChibi - She used to be like a sister, but now she's like an enemy.

Tablix - Yup! 'Similar but different' is what she's all about!

AmoriiBlossom - Haha, thanks! :)

renchikolul - Close enough! You practically summed it up, but she's not related to Yumi.

Nym.Katharina - No problem! I'm glad you guys like it!

Nitsuru - Thanks! >v< I think people will like this girl once they get to know her. She's pretty ruthless.

Hyli_Tuben_Mechanic - Thank you very much! I'd totally join for the same reason. XD Their uniforms are just so stylish!

Jazeki - Merry Christmas to you, too! Haha, she's supposed to be mysterious. eve

ChiakiAida - Oh yes! You guessed it! The other members of Yumi's clan aren't going to stand around while she breaks all the rules. >w< And thank you! Thank you SO much! I love gift you made me! I'm just sad I didn't have time to make a gift for you too. ;A;

alexisneo - Yay! Glad you like her first impression! I'm sure you'd going to like her more, though, once you find out how totally evil she is. >u<
OMG, I love that movie! Back to the Future rocks so hard! LOL, but time travel isn't the case here, I'm afraid. (Although now that you mention it, I should have totally written some in. *A*) Thanks so much, hun~! <333 And Merry Christmas to you, too!

megami23 - Many thanks! Haha, and I know, I know! Cliffhangers are annoying, but it makes you want to read more, no? <83

reion - Thanks! Haha, I knew totally violent religious women would be a hit. XD
Double thanks! And definitely the latter, I assure you.

chaoskey - Every week so far, but I'm taking a short break for the holidays. Updates will resume probably the second week of 2011, and forever more until I finish this thing.

Aritan - Thanks you so much!! Hearing that really motivates me to keep going! I'll do my very best on every page until Hotarugari is complete!

Azulu - You're too kind! Thank you!! I'll try to keep up it up!

Nacht Krieger - Thank you very much! I'm glad you're enjoying it. I'll try to have the next chapter started for you soon!
Advertisement
, May 29th, 2017, 12:50 am
-
Reader Comments:




I still dont know who she is...

posted by pipe odel on December 24th, 2010, 11:55 am








YEAAAAAAAAAAAAHHHHHHHHHHHH

man, THE WAY YOU DREW THAT SMOKE. so freakin' cool, bro. ;___; n' YOU'RE MAKING CHRISTMAS EVE THE BEST DAY OF MY LIFE FOR UPDATING JFSDKFJSDFKJ I LOVE YOU SALLL.

posted by MegamanZDevil on December 24th, 2010, 11:58 am








...does Yumi's hair clip have something to do with unsealing Ina?

I'm totally wrong, aren't I?

posted by pokesam on December 24th, 2010, 12:05 pm





yumi's...sister? o.o

posted by HolyChibi on December 24th, 2010, 12:38 pm








she looks exactly like yumi sept hair is slightly diferant besides bangs o wo i have a feeling ima like her more tho D:

posted by Tablix on December 24th, 2010, 1:34 pm








O_O'....
oh, Happy Holidays to you too =D

posted by AmoriiBlossom on December 24th, 2010, 1:55 pm





OMG it's the evil Sister !!!! AHHHHH

posted by Squidnee on December 24th, 2010, 2:28 pm








Is she related to Yumi like her sister but something happen to make her hate Yumi?

posted by renchikolul on December 24th, 2010, 2:52 pm








:D Awesome Christmas present. Thanks for the 2 pager! I'm so excited to see where this is going!

posted by Nym.Katharina on December 24th, 2010, 4:15 pm








holy crap, rival/sister/whatever she is...she looks badass.

posted by Nitsuru on December 24th, 2010, 5:25 pm








dun dun dunnnn
also, this reminds me that I would totally become a priestess just to wear the outfit. I love the design. XD

posted by Hyli_Tuben_Mechanic on December 24th, 2010, 5:56 pm








Merry Christmas! Still don't know her relation to Yumi though.

posted by Jazeki on December 24th, 2010, 7:35 pm








she looks like Yumi! her sister?! oAo

posted by SakuraTenshi on December 24th, 2010, 8:15 pm





gun... for some reason it doesn't seen to fit in...

posted by Katerang on December 24th, 2010, 8:29 pm








Revise of my old comment: I say sister/rival

posted by Kamica on December 24th, 2010, 8:50 pm








O_O

posted by Joshie on December 24th, 2010, 9:19 pm








Uh and I won't let you get away? 0_0 aha I have no idea!

posted by Natashakiable18 on December 24th, 2010, 10:01 pm








new char, uh oh, serious shizz bouts ta go down, i can sense it xD

posted by ZivXanthus on December 25th, 2010, 12:44 am








"any further" ? Does this have to do with Yumi's search for Ina OuO? I have a bad feeling that this lady will bring trouble to our friends =v=; ~ Also, I like the smoke effects amd the perspective really much OvO~
Annnnd~ Since is christmas....... Merry Christmas , sal! >w< and I have a gift for you too~ http://kukiko-tan.deviantart.com/gallery/#/d35mjhv

posted by ChiakiAida on December 25th, 2010, 7:48 am








oooo cool character *u* I'm excited to learn more about who she issss!!!!

Ima make 2 guesses :)
Older sister or future self XD *watched too much back to the future*
Awesome chapter dear~ <3 You're an comic artist ^-^

and Merry Christmas!!!

posted by alexisneo on December 25th, 2010, 9:50 am








WARNING,WARNING! A NEW CHALLENGER HAS APPEARED!

posted by JazyXIII on December 25th, 2010, 10:28 am





DUM DUM DUUUUUUM!!!

posted by CherriStrawberri on December 25th, 2010, 10:34 am








YAY I FINISHED IT!
I love your comic!

posted by Goth_Punk_Kura42 on December 25th, 2010, 11:56 am








Woah, your tones are amazing Dx <3 And I love the angle. Also, cool chapter ending! 8D Even though it's a cliffhanger... *frustrated* D8<

posted by megami23 on December 25th, 2010, 12:43 pm








Wow *w* gun-wielding Priestesses XD they're such bamfs lolz.

Can't wait for the next chapter! :B Still thinking whether this woman will be a nuisance, or just a kick ass girl... haha XD

posted by reion on December 26th, 2010, 6:57 am








Those outfits are popular, hmm?

posted by Birds of flight on December 26th, 2010, 11:26 pm




when you update new pages

hi i just found out about the comic i wanna know when do you upload new pages?

posted by chaoskey on December 27th, 2010, 12:17 pm







OMG

I started reading your comic today and, wow ! I love it, your style is simply amazing, the amount of details you put on each page is stunning.
Please keep it up !

posted by Aritan on December 28th, 2010, 1:32 pm








WUHT

IS.. IS THIS YUMI'S FUTURE SELF OR SOMETHING!?


I'm guessing.

posted by angelbliss on December 28th, 2010, 8:54 pm








I think it's her sister, they look like each other :D

or maybe her mother or cousin?

posted by AnaCarolinaLyoko on December 29th, 2010, 9:10 pm








I like cliffhangers!
I just started reading your comic last night and it is...AWESOME!

posted by Nacht Krieger on January 7th, 2011, 7:12 pm








neat she looks cool

posted by tRickityHouses on January 9th, 2011, 9:40 am








Oh! Oh! Don't mean to sound like a pest, but--!!

At the top of the page where you have the
Home -- First -- Last
links, clicking "last" brings us to page 24.

posted by Profanity00 on January 9th, 2011, 10:32 pm








Hmmmm....
>W>
Twists and Turns for everyone~

posted by SpiralPen on January 15th, 2011, 4:37 pm








Wooowww!! Very unexpected, I thought that the hairclip was something important, of course, but I didn't thought at all it could have helped someone to find her ** I want to read more! >w</

posted by Kryo Shardana on July 30th, 2011, 8:50 am