» Comics - Filler - 2000+ FANS!! - March 8th, 2011, 4:15 pm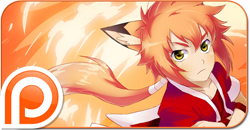 Like Hotarugari? Become a patron and help support it!
Creator's Comments:
salis
, March 8th, 2011, 4:42 pm
2000+ FANS! - Hotarugari has reached 2000+ fans! Thank you so much, everyone!! Time to celebrate! So here's a thank you picture from me to you guys because I can't thank you enough with just words alone. ;//v//;

Also, the ever-awesome MegamanZDevil and ChiakiAida have made more Hotarugari fanart!! Thank you, guys~! I love them so much! Check them out on the Art Page!

I'm eternally grateful to all of you for the incredible support you've given me and Hotarugari. This comic has become something much more than I ever expected, and I'm going to continue to do my very best for all of you!

Next page will be up soon! So see you then! :D

-SAL

P.S. And don't forget the 2011 SmackJeeves Awards is taking nominee suggestions, so be sure to nominate your favorite comics! Thanks to all of those who have nominated Hotarugari so far!! I really appreciate it!

Reply:

Echocave - Yeah! Too bad we can't say the same for Yumi. XD Maybe Hotaru can help her improve.

Hyli_Tuben_Mechanic - Thanks and double thanks! I'm really happy to see so many enjoying this comic of mine! And just like Hotaru, I can't stop smiling right now. :)

Jazeki - Thank you! <3

CactusJuicy - Thanks! I had so much fun drawing this! It reminds me of the days I spent as a kid drawing with crayolas. And yeah! Hotaru is actually the better artist here.

MegamanZDevil - Haha, you! TvT And thanks! I'm actually pleased with the way their hands look. Especially Hotaru's, since drawing the way I hold my pencil is really difficult. It's not how most people do it. :\

Ponyta - AHAHA! I KNOW! It's probably the ONE thing Hotaru is good at. He still can't beat Naoki, though. Naoki can make masterpieces with crayons. XD

AmoriiBlossom - Thanks! And yeah, Hotaru is a bit better, but Yumi still loves to draw. >v<

HaKu10 - Thanks so much, Ai! Haha, and me too! I love it when fan numbers do that! >v< And I'll try to get back to you soon!!

The Legend of Jani - You better believe it! /jumps and takes the bullets for you
And thanks!

Profanity00 YES, SHE IS! <3
And I love it that you love her so much! You are awesome like that. :3

Drakanor Dream - I agree, too! That's one of the reasons why I decided to switch it around this time since the girls in most stories are always more artistic than the guys. But it's true; women seem to be better at a lot of things than men are. It ain't fair! XD

Aless - Thank you! I do too! Drawing Yumi's drawing was probably the funnest part of this picture. And thanks again!

alexisneo - Thank you so much~! <333 You're always so sweet! ;//v//; And I'll try to keep it up as best I can! >v<

SakuraTenshi - Thanks~! Haha, and I laughed when I read that! It's true; I thought about doing it the other way around, but it's more fun this way. ;)

Korumi-chan*-* - Yay! Glad you like it! I hope you'll drop by more often then. And thank you!

Loom - Ahaha, thanks so much, Loom! X3

Birds of flight - Thanks! Hotaru's actually been a human quite a lot during his life, so he's pretty comfortable drawing like this. But yeah, I'm sure Yumi envies his drawing abilities!
Advertisement
, July 22nd, 2017, 1:43 pm
-
Reader Comments:
Hotaru is a good artist

posted by Echocave on March 8th, 2011, 4:52 pm








Haha congrats!
And what a cute picture.
Hotaru's smile is extremely infectious. :)

posted by Hyli_Tuben_Mechanic on March 8th, 2011, 5:04 pm








<3 Congrats!

posted by Jazeki on March 8th, 2011, 5:05 pm





Aw this is such a cute pic all raibowy with crayons and fun-nes~
Hotaru is a surprisingly good artist

posted by CactusJuicy on March 8th, 2011, 5:09 pm








I wish I had Yumi's skills. I love how the lines n' shading look, but especially their hands. *u*b great job bro /// also congrats again ahah

posted by MegamanZDevil on March 8th, 2011, 6:31 pm








HAHAHA! OMG HOTARU'S A REALLY GOOD ARTIST!! WHO WOULD'VE THOUGHT!? HE MIGHT BEAT HIS RIVAL AT SOMETHING ;D xD

posted by Ponyta on March 8th, 2011, 6:33 pm








O: congrats =D and wow, Hotaru is a better artist than Yumi O: but Yumi's picture is still awesome ^^

posted by AmoriiBlossom on March 8th, 2011, 8:33 pm








Sooo cute <3

posted by Lavender Okamari on March 9th, 2011, 12:25 am








woo popularity \o/

posted by Tablix on March 9th, 2011, 1:44 am








Congratulations, Sal, I knew you'd make it! Honestly, I wish I could've seen the day that it said 2011 fans, then I would've said, OMG, that's this year, lol. Anyway, congrats again and hope to hear from u soon. Take care. :)
-Ai

posted by HaKu10 on March 9th, 2011, 4:14 am








YUMI'S LEFT-HANDED!
Just like me! Just another reason to add why she's my favorite character lol.

posted by Profanity00 on March 9th, 2011, 12:26 pm







aww

such a cute picture!!!!!

posted by RosileenaLuniada on March 9th, 2011, 12:56 pm








I agree with the person above me. Although I find even funnier that the male is drawing the better pic... Seems to me that it is always the women who tend to draw better :P

posted by Drakanor Dream on March 9th, 2011, 2:38 pm








some one looks cut to the teeth.

posted by GabrielsThoughts on March 9th, 2011, 3:55 pm








Ahh congrats of 2000+ fans!!
This drawing is ADORABLE <3 I love the cocept seeing them drawing each other and the composition >u< !!
Hotaru's pretty good x3 !!

Keep it up <333 Love this comic ^-^

posted by alexisneo on March 10th, 2011, 7:07 am








yay~! congrats to you~~~!!! >w<
lol, I love how Hotaru has mad art skittlez and Yumi has... not so much mad art skittlez XD you'd think it's the other way around, but this way makes sense too

posted by SakuraTenshi on March 10th, 2011, 9:13 am







Colors *0*

So colourful and all *---* and i'm part of it LOL It's been a while since I've been here, ans it's still as grear as ever ^^ Keep the good work XD

posted by Korumi-chan*-* on March 10th, 2011, 5:04 pm








CUTE

posted by ivorybreath on March 10th, 2011, 9:01 pm








Hotaru's drawing of her is so beautiful, and i think it's so funny that he's been human for a short time. :D

posted by Birds of flight on March 12th, 2011, 2:42 pm








Awwww this is so cute<3
It kinda reminds me of this though --> http://images.wikia.com/bakuman/images/c/c2/02-04.jpg

But fff-- who cares. Hotaru and Yumi are so adorable~<333

posted by Drawii on March 16th, 2011, 11:50 am





Hotaru's GOOD! O_O Wow, I wish I could draw like that. X3 And he's so cute!

posted by Pleachen2 on March 23rd, 2011, 10:59 pm







GASP

Yumi is left-handed like me :DDDD...i feel so special now =w=

posted by DerpBox on June 3rd, 2011, 9:51 am