» Comics - Chapter 3 - 08 - March 24th, 2011, 4:40 pm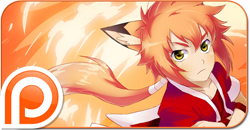 Like Hotarugari? Become a patron and help support it!
Creator's Comments:
salis
, March 24th, 2011, 4:57 pm
- Whoa! New Character! Well, kinda. A lot of you remember her from the end of Chapter 2. That's Miyu, Yumi's childhood friend. Although she tries to cheer Yumi up here, Miyu's not very good at being nice. XD

New art on the Art Page and thanks to all the recent Hotaru T-shirt purchases on the Shop Page! I've almost completely sold out!! Thanks again!

-SAL

Jazeki - Thanks! It's changed at least... three times since I first drew her, but I'm really happy with her final design!

reapervampire - You have good reason not to like her! She's actually pretty cruel. Even to her friends. :0

megami23 - Thank you tons, Amanda! That's the sweetest comment anyone could give me. ~<3

ChiakiAida - Haha, me neither, but Miyu loves to hunt, so she figures Yumi does too. And even if it doesn't make Yumi feel better, it'll at least take her mind off of the fight she had with her little brother. Speaking of Makoto, what you heard about him is true. It's sad, I know. :'0

ivorybreath - Thanks! :)

Oxi_2.0 - Sorry, but yes... I'm afraid so.

*Suki* - Ah! I'm so glad you noticed! ~<333 All the names in this comic have meaning to them, and Miyu's and Yumi's being almost identical but different really expresses their relationship to each other.
Advertisement
, July 22nd, 2017, 1:31 pm
-
Reader Comments:




poor makoto :C

posted by vbfrap on March 24th, 2011, 5:17 pm





NOOOOOOOOOOOOOOOOOOOOOOOOOO
HE'S GONNA DIEEEEEEEEEEEEEEEEEEEEEEEE

posted by SolaratheHedgehog on March 24th, 2011, 5:55 pm








Miyu has such an awesome hairstyle.

posted by Jazeki on March 24th, 2011, 6:00 pm





Yey~ :D Love her hair X3

posted by Pleachen2 on March 24th, 2011, 6:18 pm








I like her hair. I just don't like her. I WANT HIM TO LIVE.

posted by reapervampire on March 24th, 2011, 10:24 pm








I love your art style!
And the way you draw hair is amazing 8DD
Love the story flow~
And this comic 8DD It's like watching an anime - except... it's in manga-form... xD

posted by megami23 on March 25th, 2011, 7:51 am








....if I would be in yumi's place I just wouldn't feel better once I would start hunting some supermegagiantuglyscary creature = A = ;; I would rather stay at home far away from any danger
aww also, I heard that makoto will die. Is that true? *sob*

posted by ChiakiAida on March 26th, 2011, 11:49 am








i wish i had your drawing skills DX

posted by ivorybreath on March 27th, 2011, 1:53 pm








She doesn't feel well because she didn't go back and give her little brother a hug before leaving l:<

posted by Lavender Okamari on March 28th, 2011, 6:36 am








8D Miyu...and Yumi....I love the fact SO much that they have the same characters in their name. <3

posted by *Suki* on March 29th, 2011, 4:15 am