» Comics - Announcement - Holiday! - May 19th, 2011, 6:54 pm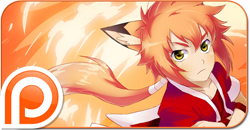 Like Hotarugari? Become a patron and help support it!
Creator's Comments:
salis
, May 19th, 2011, 7:04 pm
- Once again, I'm off to Japan!

From May 24th to June 24th I'll be in Kyoto, Japan on holiday! Unfortunately, this means Hotarugari is on a temporary hiatus until I return four weeks later. But don't worry! When I get back, expect more Hotarugari updates!! ;D

Many of you might remember I took a trip to Japan last year around this time with my family after I finished Chapter 1 of Hotarugari, and this is a similar trip. Only this time, I'm going to Japan alone! I'm a little nervous about it, but I'm really looking forward to it too.

Thanks to all of you for your support, patience and understanding! Take care of yourselves and see you in four weeks!

Updates for Hotarugari will resume in late June!

And... I'll delete this scribble when I get back! XD

-SAL

Summary:

Where are you going?
Kyoto, Japan!
When and for how long?
From May 24th to June 24th. Four weeks.
Why?
On holiday~!
...who is the bear in this picture?
That's me! Duh! :3 Remember last year's pic?
Advertisement
, May 29th, 2017, 12:50 am
-
Reader Comments:




Have fun on your trip! I look forward to the updates once you return. :)

posted by Sapphiress on May 19th, 2011, 7:10 pm








Have fun and stay safe!

posted by KermitsGirl on May 19th, 2011, 7:34 pm








HAVE FUN!!! Who knows, you may even find some cool new mythological characters to appear later on in the comic =D

and do we really have to say our goodbyes to the bear when you start updating again? IT'S SO CUTE! D: ....and it is so not shamelessly endorsing the comic. Nope, not at all.

ANYWAYS, I VOTE IT STAYS. :)

posted by constant_boredom on May 19th, 2011, 7:41 pm








Good luck and have fun!

posted by Jazeki on May 19th, 2011, 7:53 pm








i thought you were already on a hiatus. :O

not from what you've said; it's just been slow.

oh well, have fun >:{D

posted by MrChawana on May 19th, 2011, 9:08 pm







Happy Trip!!

Wow Goodluck and Have a fun and safe trip...Aww Lucky you you get to go to Japan and in Kyoto too....heard it's one of the beatiful and historical sites there I think...and hopefully when you come back you have loads of ideas for Hotarugari and loads of updates...I'll be rooting for you...=)

posted by AqoCJeyBee on May 20th, 2011, 2:27 am








Have a safe trip!

posted by General.Hankins on May 20th, 2011, 3:01 am








Come visit Camp Zama! That's where Haku10 and I live! xD
jkjk
Have a great trip!!! :D

posted by gizumimipichu on May 20th, 2011, 4:29 am








Awww I bet it's going to be cool.
Have a safe trip and have fun! ^u^

posted by ChiakiAida on May 20th, 2011, 6:46 am








Be careful, being by yourself and all, but have lots and lots of fun!
Do some karaoke!! :D

posted by Hyli_Tuben_Mechanic on May 20th, 2011, 11:33 am








Have fun!!!!!!!!!!!! :D

posted by leximander on May 21st, 2011, 12:51 am








ahhh! You're so lucky to go to Japan on vacation like that >u<
Anyway, have a fun and safe trip, cause I'll be waiting patiently >8)

posted by angelbliss on May 21st, 2011, 10:18 am





Japan?! I'm so jealous... D:
Anyways... Great comic and I hope you have a great time XD

O.o... I just noticed I'm the 2200th fan :DD

posted by Xana100 on May 24th, 2011, 3:11 pm








Just read through the comic as you have it thus far... Really made my day to find such a good read with great artwork :D Have an awesome, awesome trip! Take it all in and relax, and can't wait for those updates! :3

posted by KizzieSama on May 24th, 2011, 4:23 pm








ah!! lucky! I hope you have-- er... HAD fun!!! you have to tell us how your trip was when you get back today!!! 8D

posted by SakuraTenshi on June 24th, 2011, 9:22 am








Welcome back from Japan ^_^

posted by Cumin on June 25th, 2011, 3:58 pm