» Comics - Chapter 3 - 13 - July 16th, 2011, 7:38 pm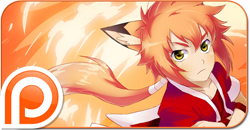 Like Hotarugari? Become a patron and help support it!
Creator's Comments:
salis
, July 16th, 2011, 7:49 pm
- Drawing a foggy field is just... bleh, haha! I had no idea fog was that hard to portray. I learn so much doing this comic. XD

Thank you, everyone, for the wonderful responses on the previous page! So many artists read Hotarugari! And since you're interested, I've decided to use page 15 of this chapter to show you step-by-step my process to creating a page for Hotarugari! Why 15? Because it's got everything! Including Hotaru's reentrance, which I know everyone is looking forward to.

Anyway, I'm already starting on the next page, so I'll try to update more!

-SAL

Reply:

selenaloong - Thanks! I'm glad you like it! :D

megami23 - I always look forward to your comments! So sweet and detailed! It really means a lot to me! Thank you so much! And me too. I'm looking forward to drawing Hotaru's funny hair again. XD

MegamanZDevil - Awww, thank you, thank you! >//w//< I appreciate you saying that, man! I put my all into every page, but when someone notices, that's what really makes the effort worth it!

Cocytus - Hey, thanks a million for your advice! There's a lot in this comic that I've never drawn before, and it's very experimental, so I appreciate comments like yours! Even if you've never drawn before, you know what looks right. ;D

HaKu10 - Thanks, Ai! <3

Chingu - You're so kind! Thank you! Hotarugari will spand 5 chapters total, so we're already more than half way there!
Advertisement
, May 29th, 2017, 3:43 pm
-
Reader Comments:




Oh yay!!*A*~ >w<d im gotta love the tutorial!! And thanks for updating!!love your page!

posted by selenaloong on July 16th, 2011, 7:53 pm








Your paneling is so beautiful ;u; Aaah, I really can't get enough of the incredible high-quality shading, the pages just look so crisp and delicious~
I like the way you made this flashback, it fits smoothly with the flow of the comic. I'm really looking forward to seeing Hotaru again ;w;

posted by megami23 on July 16th, 2011, 7:54 pm








this whole page is really nice. the first panel with the leaves blowing in the wind, the second with it's grassy plain n' the detailed full/almost full body, the final two with it's close up details. also how everything is lighter adds to it's beauty even more. i think on this page i notice more of your improvement then on the last. n' i cannot wait to see the process. this shall be exciting.

posted by MegamanZDevil on July 16th, 2011, 11:52 pm





just a noob who's never drawn before, but i think the foggy scene you did here is great. a better way of making it foggy/misty looking might be drawing see-through fluffs of long clouds in front or between the character, so it looks like there is still fog or something between then versus around them, but that's just me... >.< (but it's still perfect the way you did it.)

posted by Cocytus on July 17th, 2011, 1:12 am








Cools, can't wait to see da page! :3
Wow, Yumi looks so much older now! :)

posted by HaKu10 on July 19th, 2011, 3:15 am








OMG SALISSSSSSS. Your comic is just so awesome. I really love the story and how it's progressing so far. :3

Do you know how many chapters it will have? > v <

posted by Chingu on July 21st, 2011, 2:59 am