» Comics - Chapter 3 - 14 - July 27th, 2011, 9:27 pm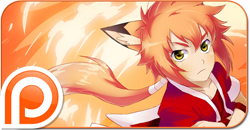 Like Hotarugari? Become a patron and help support it!
Creator's Comments:
salis
, July 27th, 2011, 9:39 pm
- Whew! Yumi's flashbacks are done! And I'll use next page for my tutorial for you guys. I'm kind of looking forward to drawing Hotaru again. Never thought I'd say that. XD

And please vote for Hotaurgari in the Smack Jeeves Awards! It's been nominated for Best Banner! Thank you so much, everyone!!!

And huge thanks to my brother for helping me with this page! He is awesome! :D

-SAL

Reply:

Chingu - Thanks! And double thanks! Every vote counts!

xXAznSkillZXx - Aww, I know! Her story is kind of a downer. XD But things work out in the end! And thank you! >w<

NekoKira - I do! I want to give her a bearhug for all the terrible stuff I've put her through! :'( And definitely a squishy yo-yo. Definitely.

forgotten_cake - Thanks! Actually, all of the names in Hotarugari relate to the characters or the story in some way. Yumi and Miyu is a great example of this since their characters are similiar to each other yet differ at the same time, and their name reflects this. These kinds of details and hidden meanings are never explained in the comic, but you'll be sure to find them in the printed version of Hotarugari!

*Suki* - Thank you Lily baby! ;//w//;

HaKu10 - Aww, don't cry, Ai! Things turn around for her! But yeah, it's hard going through these sad parts.

Cocytus - I know! I've had a hard time drawing these pages since it's such a sad story. T__T

Hyli_Tuben_Mechanic - She does! Hotaru will take Yumi to her eventually. XD But whether Ina will listen to Yumi and her cause is yet to be seen...
Advertisement
, May 29th, 2017, 3:42 pm
-
Reader Comments:




FFFFFF. I feel so bad for Yumi. T_T

AND FIRSTTTT

OH and I voted for you for best banner! ; v ; Good luck!

posted by Chingu on July 27th, 2011, 9:45 pm








YAAAAY FIRS-
Oh goddammit.

Pooooor Yumi. ; A ; I hope you find Ina
And oh geez. Your pages are always so soft and beautiful! And you have my vote. =v=b

posted by xXAznSkillZXx on July 27th, 2011, 10:09 pm








Anybody else wanna give her a hug? I think she needs a hug. :<
And a squishy yo-yo. Yumi definately needs a squishy yo-yo.

posted by NekoKira on July 27th, 2011, 10:54 pm








I wonder if there's any particular reason why Yumi's friend/rival there has a name that's an anagram of her own.

Anyway, I'm looking forward to reading more! This comic is awesome.

posted by forgotten_cake on July 27th, 2011, 11:15 pm








;~; Poor Yumi.

:D I already voted Hotarugari for best banner.

posted by *Suki* on July 28th, 2011, 12:35 am








I feel like crying for poor Yumi. :'(

posted by HaKu10 on July 28th, 2011, 9:49 am





OMFG... that's just too sad... but she still has a friend! She shouldn't lose that either!

posted by Cocytus on July 28th, 2011, 12:17 pm





They say you reap what you sow.

posted by HaveCare on July 31st, 2011, 10:05 am








Hm. I hope Yumi finds Ina, though I am curious as to what Ina would do. :3

posted by Hyli_Tuben_Mechanic on August 4th, 2011, 12:39 am