» Comics - Chapter 3 - 16 - August 21st, 2011, 12:58 pm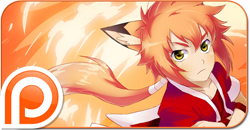 Like Hotarugari? Become a patron and help support it!
Creator's Comments:
salis
, August 21st, 2011, 1:36 pm
- Thanks for waiting, everyone! We're finally moving on! And back to the comedic parts of this comic. XD I forgot how fun these two were. Really looking forward to drawing the upcoming pages.

And let me know what you guys think!

-SAL

P.S. Ah, sorry about that! Thanks, Solara. I've been gone for too long I just now noticed. Thanks to everyone who voted! Maybe next time, Smackies. <:3

Reply:

NovaBee - Haha, I thought so too! That'll be Hotaru's catchphrase from now on. >:3

Jazeki - Me too. He hardly is one, though. XD

MegamanZDevil - Thanks, man! I actually hate Hotaru a lot, (LOL, it's because he has too much of me in him!) but it's a "love to hate" kind of deal. He's entertaining at least! XD But I'm so glad you're enjoying this!

VibeCatcher - That's an interesting thought! But actually, because their clothing is apart of their forms, if they were to transform into something else without them, (let's say from human to fox again,) the clothes would simply go "poof!" and dissappear, and we'd still have a furry fox. It would be really akward otherwise, LOL...
*tries not to think about it*

euphiemia - I'm glad to hear it!

ivorybreath - Thank you!

keyswordmew - Wow... I didn't expect I'd still be getting questions about Nephi after she left the series. XD Her name comes from an Asian spider, Nephila Clavata, also known as the Joro-spider because of their relation with Jorogumo, which is what Nephi is.

Pleachen2 - Thank you! I'm glad you like him!
Advertisement
, May 29th, 2017, 12:50 am
-
Reader Comments:
Oh Hotaru.
And SAL, the winners were already announced.

posted by SolaratheHedgehog on August 21st, 2011, 1:44 pm








Hotaru is mean!

posted by Yasaonna-chan on August 21st, 2011, 1:44 pm





Two of the same page?

posted by HaveCare on August 21st, 2011, 1:50 pm








"That's how heros do it!"
sounds like a new catchphrase

posted by NovaBee on August 21st, 2011, 2:20 pm








I like how Hotaru assumes he is the hero.

posted by Jazeki on August 21st, 2011, 5:42 pm








i love Hotaru even more. i love how he's so concerned too. keep up the great work. i can't wait for the next page.

posted by MegamanZDevil on August 21st, 2011, 5:42 pm








a thought just came to me: their clothing is a part of their human forms, right? So what if they transformed into something else but didn't put on something first?
..........
*imagines fox hairless from neck to waist*

posted by VibeCatcher on August 21st, 2011, 5:54 pm








XD ahaha. i love it! this whole page is beautiful!

posted by ivorybreath on August 22nd, 2011, 9:55 pm








Heroes always jump from the balcony.

posted by The_Hankerchief on August 23rd, 2011, 10:07 am








Nope, Heroes just make their entrance/exit from the coolest/highest place they can find! GO HOTARU! GO!

posted by _Ashen_ on August 23rd, 2011, 10:49 pm








THATS HOW HEROES DO IT.

Damn straight.

posted by DerpBox on September 4th, 2011, 6:47 pm








Hotaru, you're my hero~ :)

posted by HaKu10 on September 9th, 2011, 6:38 am








Where'd ya get Nephi's name from?

posted by keyswordmew on September 11th, 2011, 8:08 pm





I love Hotaru. He's so funny!

posted by Pleachen2 on September 12th, 2011, 4:43 pm