» Comics - Chapter 3 - 17 - September 17th, 2011, 5:57 pm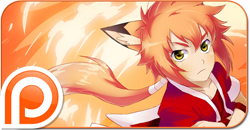 Like Hotarugari? Become a patron and help support it!
Creator's Comments:
salis
, September 17th, 2011, 6:14 pm
- And I'm back again! Sorry for the wait! A lot of things have been happening at home and it's been keeping me preoccupied.

One of those things being that my 9 year-old dog, Pip, is having heart problems. I love him very much and I'm not sure if he will recover. He'll most likely be on heart medication for the remainder of his life, and since I'm currently unemployed, a lot of my time is being used to try to make money to pay for his medication and vet bills.

So to help out, I've added a PayPal donate button to the Hotarugari site just above these comments for any of those who wish to help support this comic and the starving artist behind it! Don't have any money? Not a problem! Adding Hotarugari to your favorites, spreading the word about this comic, fan art, commenting, rating, or just reading Hotarugari is a HUGE help to keeping this comic going! I want to thank you all for your kindness and encouragement! You guys are amazing and I'm going to do my best for you to keep Hotarugari updated!

-SAL

Reply:

The_Hankerchief - Thanks, and I'm sorry too. It's hard to lose something you care about so much. I hope you and your family are alright.

MegamanZDevil - Thanks a ton for understanding. Normally, I try my best not to let my personal problems get in the way of this comic, but this hit me hard. And thanks again! This page took some time, mainly because of the backgrounds, but I'm really happy with how it came out. Especially the roof, like you mentioned. So detailed! :P

SolaratheHedgehog - Haha, it's too easy to tell, isn't it? XD Hotaru must need glasses.

Thanks and sorry, too. I normally hate talking about such sad things with you guys, but it helps, too.

applesauce - Thank you! :)

ivorybreath - Thanks a lot! I really appreciate your words and support. I'll do my best to get through this!

ChiakiAida - I'm so sorry to hear that! It sounds like you've been through a lot, too. And thank you!
Advertisement
, May 29th, 2017, 12:50 am
-
Reader Comments:




Sorry to hear about your dog, we recently lost one of our cats to sickness too.

posted by The_Hankerchief on September 17th, 2011, 7:01 pm








oh god. that's really hard. do take your time. you don't need to update the comic, especially if you're helping such a good friend. good luck n' i hope he has no troubles.

i really love this page. the backgrounds are amazing, as well as the movements n' poses in the panels. great job. making that roof must've been rather difficult.

posted by MegamanZDevil on September 17th, 2011, 7:20 pm





Hotaru, that's not her D:

And I'm terribly sorry to hear about your dog. It's making me a bit sad on the inside just reading about it.

posted by SolaratheHedgehog on September 17th, 2011, 9:34 pm





I understand your pain. I have been in a similar situation. I hope he gets better!

posted by applesauce on September 18th, 2011, 1:04 am








oh i love this comic so much! send my love to your dog ;( i hate it when animals are in pain and when artists suffer. my support is with you!

posted by ivorybreath on September 18th, 2011, 7:22 pm








I kind of understand your situation
QvQ I lost in my life a really dear cat and the best friend (dog) QAQ together with another dog that died of old age OTL
I hope tough yours will recover !
Besides that, in the 3rd panel something tells me that she's not yumi O7O

posted by ChiakiAida on September 19th, 2011, 7:37 am