» Comics - Chapter 3 - 18 - October 8th, 2011, 2:00 pm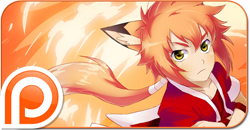 Like Hotarugari? Become a patron and help support it!
Creator's Comments:
salis
, October 7th, 2011, 2:31 pm
- Did you know we've already passed not only the half way point in this chapter, but also the half way point of the Hotarugari series?! Yay! We're half way there! XD

And thanks a million for all of the support on the previous update, guys! You all know how to boost my spirits. And look at all these new fans! :'D

Might be a while 'til next update, but like always, I'm giving it my all!

-SAL

Reply:

SilentDusk - LOL, I know, right? Thanks for being such an avid fan all this time! I still can't believe I've been working on the same project for over a year... wow. D:

potatoshot - Yay! You know your stuff! >:3 That is definitely not her...

pokesam - Yeah, yeah! Highfives for remembering her name!

Aka-kami - Haha! Thank you! The last panel was probably the most fun to draw because of that reason. XD

KirtiMiko - LOL, dang it, KirtiMiko! Now I will have that song stuck in my head! XD
And yeah, for priestesses, they're rather merciless.

Hyli_Tuben_Mechanic - Aww, you're so concerned for Hotaru! So sweet. ;u;
And yeah! Halfway! I expected to be done by now. XD And thanks for being such an awesome fan! Seriously, you're so awesome for being such a great supporter and sticking with this comic for so long!

The_Hankerchief - Yes, indeedy! But Miyu and Yumi look so alike I don't really blame Hotaru for making the mitake. XD

Fozzymillow - Thank you very much! I really love hearing that. I'll do my best to keep updating! (And Hotarugari will always stay clean, for you and your little sister, too!)

Dracorium12 - Really? For me it feels like I started this project forever and an eternity plus two days ago! XD But I'm glad to see you stick with it this long and that you're enjoying it!

ChiakiAida - Lidiaaaaaa~
Thanks a million! You know I never get tired of knowing other's enjoy my work. And yeah! Hotaru is the most fun to draw because he has such funny faces! XD

Kitsukitty - LOL, Hotaru sure has some interesting nicknames. I guess it's Yumi + Monster = Yumster. XD

enjelicious - Thanks, enjelicious~! <333

soul2 - Thank you very much! Appreciate you saying that.
Advertisement
, July 22nd, 2017, 1:36 pm
-
Reader Comments:




Lol, wow.... Cant believe its almost been a year since I read this c:

posted by SilentDusk on October 8th, 2011, 2:08 pm








She wasn't wearing all that stuff when she left.

THAT ISN'T HER IS IT

posted by potatoshot on October 8th, 2011, 4:12 pm








Hello, Miyu.

posted by pokesam on October 8th, 2011, 4:12 pm








OH GOD HOTARU RUN RUN RUUUUUNNNN AAAWWWAAAAAAAAYYYYYYYYYUUHHHH!!!

Panic aside, I love his expression xD Even though it's an expression of fear <A< >A>

posted by Aka-kami on October 8th, 2011, 5:28 pm







LE GASP

le gasp! but I think it's another person..
can't wait for the next page ^^

posted by jollymark on October 9th, 2011, 3:16 am








OMG ITS NOT HER

posted by ivorybreath on October 9th, 2011, 6:25 am








Oh crap I just realized it was that other chick

posted by XDarkCrystal828X on October 9th, 2011, 12:52 pm








CALLED IT! -fist pump-

I feel seriously cool for predicting that.

posted by Skittsue on October 9th, 2011, 2:36 pm








OH LORD ITS MIYU Q A Q...

posted by DerpBox on October 9th, 2011, 3:14 pm








Whooooa, we're halfway there!
Whoooooa-ooooh! Livin' on a prayer!

... That's funny, considering she's a priestess and all.

posted by KirtiMiko on October 9th, 2011, 3:58 pm








Aw fu-!

posted by animefan23 on October 9th, 2011, 7:35 pm








ohgodpleasedon'tshootHotaruMiyuohgodohgod

Wow, halfway through Hotarugari?
I feel so proud for having been here since almost the beginning! :D

posted by Hyli_Tuben_Mechanic on October 9th, 2011, 9:36 pm








Oh no, that's her friend, ain't it?

posted by The_Hankerchief on October 10th, 2011, 4:04 am








Just sayin' thanks for such a great read so far! (And thanks for keeping it clean. My little sister adores it!)

posted by Fozzymillow on October 10th, 2011, 7:44 pm








What? This can't be the halfway mark, it feels as though the adventure was just getting started ;A;

posted by Dracorium12 on October 11th, 2011, 7:47 pm








salllllllllllll
just how much I love your comic and art styyyle ; v ; though I think I said this at least 12358927 times until now LOL
QvQ I am so happy the comic is updated~~
I just cant get enough of hotaru's funny expressions XD

posted by ChiakiAida on October 12th, 2011, 11:45 am








hey, Yumster! ahaha Hotaru is hilarious

posted by Kitsukitty on October 20th, 2011, 2:04 pm








Hahah hotaru = fun XDD

posted by enjelicious on October 22nd, 2011, 11:57 am








This is awesome
ur drawings are amazing

posted by soul2 on October 31st, 2011, 12:27 pm