» Comics - Chapter 3 - 19 - November 14th, 2011, 12:25 am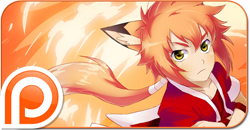 Like Hotarugari? Become a patron and help support it!
Creator's Comments:
salis
, November 14th, 2011, 1:32 am
- LOL, miss me? Miss this comic? I missed you guys.

Wow, it's been a while. I know I'm taking my sweet time getting there, but know that we will reach the end of this comic, and no matter what, Hotarugari will always be here on Smack Jeeves. This I promise! I couldn't have made it this far without all the comments, fans and favs, so thank you for sticking with me!

You've most likely already noticed, but updates for this comic have become irregular. Well, more irregular than they already were. XD My time for working on Hotarugari has been cut significantly due to having to take care of my cousin from Mon - Wed, and my current life situation, which, by the way, hasn't been so hot. In general, I've been super sick, depressed, and on the brink of a nervous breakdown, not to mention my tablet broke. :P But life goes on, and so does this comic, so let's get to it!

-SAL

P.S. This is not the 100th page, but it IS the 100th Smack Jeeves post for Hotarugari! YAY!
Advertisement
, May 29th, 2017, 12:50 am
-
Reader Comments:




Time for you to save the day "Chubs"!
:D

posted by Hyli_Tuben_Mechanic on November 14th, 2011, 1:49 am








haha~ Hotaru u failed !!!

posted by sala218 on November 14th, 2011, 8:08 am








gdi man all of hotaru's expressions are just fun to look at. so rare for him to freak out. miyu, baby, as lovely as always n' i really love the way you do the beads.

posted by MegamanZDevil on November 14th, 2011, 10:05 am








Sallll

Yes, I did miss you :'c

posted by Harrie5 on November 14th, 2011, 10:14 am








congratulations on a hundred pages.

posted by GabrielsThoughts on November 14th, 2011, 11:35 am








LOL he fails so much its adorable xD i wonder how Yume will react when she finally appears!

posted by ivorybreath on November 14th, 2011, 4:06 pm







missed you~

she's not even listening to his rambling... hey is it just me or does Hotaru and Naoki remind you of the Elric brothers? I might just be going crazy..

posted by nijineko on November 14th, 2011, 5:07 pm








Just take it easy, Sal-chan. Take one day at a time, and I'm sure you'll do fine. Just take your time with your comics, there's no hurry. You have more important things to attend to, so all your fans should understand what you're going through. I hope that all goes well and you'll be your cherry self again. I'm a message away if you wanna talk. :) Take care, k?
Love this page, btw! Poor Hotaru, I hope Yumi comes by soon~ :D

posted by HaKu10 on November 14th, 2011, 8:28 pm








"Look, a distraction!"

posted by The_Hankerchief on November 14th, 2011, 10:16 pm








Whoaaa saliiis welcome back I miss you and the comic!! XD

But don't worry take your time, quality is better than quantity. :D

posted by enjelicious on November 14th, 2011, 11:25 pm








Hurray an update X3 I've missed this comic, it's great to see you back :)

Sorry things have been tough for you though D: I hope things get better in the future!

posted by Everlong on November 15th, 2011, 2:18 am







Yaaaaaaaaaaaaaaaaaaaaaaaaaaaaaaaaaaaaaaaaaaaaaa

aaaaaaaaaaaaaaaaaaaaaaaaaaaaaaaaaaaaaaaaaaaaaaaaaaaaaaaaaaaaaaaaay!

:D Glad to see this comic is coming back! Also, if you are having problems, being back on the computer won't help. Take a break again, even though you just got back. Health is more important than entertainment.

posted by Nerxual Oh on November 15th, 2011, 4:52 pm








PFFFF- I can't get enough of Hotaru, he just so adorable. xDDDD <3

posted by FourHerLove on November 18th, 2011, 9:56 pm








Dun dun DUUUUUUUUUUUUUUN!!!

posted by Rumiel on November 20th, 2011, 6:50 pm