» Comics - Chapter 3 - 23 - March 28th, 2012, 2:15 pm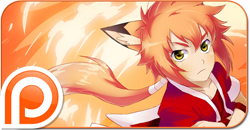 Like Hotarugari? Become a patron and help support it!
Creator's Comments:
salis
, March 28th, 2012, 3:23 pm
- Wah! Is it really spring already?! I've over-hibernated! XD Now that spring break is here, I have time for Hotarugari once more. Thank you all for waiting!

If I ever stop updating like that again, I want you all telling me to get off my lazy duff. Seriously. Slap me with comments! The more you holler, the more I'll hear you, and the more I can stay on track with this comic. >w<;

High-five to my brother for his input on this page, and a huge thanks to you guys again for reading. I've got more in store for this kitsune kid, so hang tight!

-SAL

BONUS! - Since I spent some heavy hours working on the details and elements on this page, (and I feel lousy for not updating for so long,) I thought it'd be neat to show the artwork when it isn't covered and smothered with sound effects and word balloons. Pity the final version covers all that stuff up! http://img687.imageshack.us/img687/9754/323large.jpg

Reply:

JAikman - Thanks! I really appreciate that. I'll do my best to keep updating. :)

Complete Stranger - Me too! Aren't they neat? They condense and conduct currents of spirit energy, (stuff that smarts like the dickens if you intercept it,) and can zap a person's spirit out of their body! Talk about hardcore.

pokesam - Haha, it's going to sting for the rest of his life. That stuff packs a whallop!

Andrew Wolfwood - LOL, well, I guess posting a postive comment saying how much you enjoy reading this comic will have the same effect and get me working on it again. Carrot or whip, it's your choice! But I'm definitely going to need the help from the fans of Hotarugari to keep up the pace!
Advertisement
, May 29th, 2017, 12:49 am
-
Reader Comments:
Awesome :D I love this comic and I'm glad you've started updating again.

posted by JAikman on March 28th, 2012, 3:33 pm








I want those gloves.

posted by Complete Stranger on March 28th, 2012, 4:08 pm








That's gonna sting in the morning.

posted by pokesam on March 28th, 2012, 4:18 pm








Aww is there a better way to get you off your lazy duff

posted by Andrew Wolfwood on March 28th, 2012, 4:23 pm








dang sal the panels with backgrounds are just so gorgeous. also miyu's face in the fourth panel. yes punches to the face

posted by MegamanZDevil on March 28th, 2012, 6:19 pm








WHY YOU SO MEAN TO HOTARU ;-;

posted by contradiction123 on March 28th, 2012, 7:16 pm








OMG MAKE HER STOP BEATING HIM UP

posted by ivorybreath on March 28th, 2012, 8:25 pm








I must say that I think the way you draw water and electricity is absolutely beautiful. Great job on those! And everything else for that matter! ^^

posted by Scenister on March 28th, 2012, 9:11 pm








OH, I could never use a whip to force you to work. I don't get the carrot joke though, makes me think of the video of Tewi! EienTewi from youtube. Anyways, I'd never use a whip to force you..... would you prefer the Scavenger's Daughter, it's a torture device, opposite to the rack. Even squeezed a lemon causing the juice to bleed out. The Scavenger's Daughter, or Spanish A-Frame, works the same way, compressing the body till the blood bleeds out. The rack is so cliche, this is so much more original. Before you ask, I had help a friend do a paper on the history of the Tower of London, she namely had me help her with the Torture part

posted by Andrew Wolfwood on March 28th, 2012, 9:59 pm





Damn that lightning is beautiful.

posted by Yangyexin on March 30th, 2012, 8:16 am








woah... this page has a whole different feel to it without all the noise. more sinister, more hopeless. thank you for letting us see it

posted by A Demonic Presence on March 30th, 2012, 3:09 pm








Poor Hotaru! SHE SHOULD DAI FOR HURTING HOTARU-KUN!!!!!!!!!!!!!!!!!!!!!! :(

Also: The artwork is beautiful and looks like it is seriously professional. You are really an amazing artist! Hotarugari is what actually got me into comics. It overjoys me EACH time you update! It is seriously worth the wait, Sal!

posted by Chibi-Sama on March 31st, 2012, 4:41 pm








yyyy.YEESSSS!!! :D Anothe page~~ :3 So happy

posted by linki789 on March 31st, 2012, 5:25 pm








;A; I'm flailing my arms around, and I'm in the middle of class.
Run Hotaru D':

posted by DerpBox on April 2nd, 2012, 9:01 am








I'm so glad to see a new post!

posted by Fozzymillow on April 2nd, 2012, 12:18 pm








when are you updating? :3 pretty please? :3333333333333333333333333333333333333333

posted by xiaojin67 on April 22nd, 2012, 1:32 pm





Would like to see what happens next! please update soon!

posted by Angel22 on April 22nd, 2012, 1:39 pm





MORE UPDATES!!!!!

posted by blackpickles on April 23rd, 2012, 10:37 pm





Get off your lazy duff and UPDATE!

posted by applesauce on May 1st, 2012, 2:39 pm







oooohh

Feel really bad he is getting injured

posted by lulucherry on May 9th, 2012, 9:55 pm