» Comics - Chapter 3 - 28 & 29 - September 20th, 2012, 12:03 am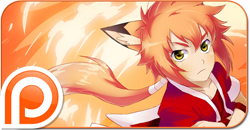 Like Hotarugari? Become a patron and help support it!
Creator's Comments:
salis
, September 20th, 2012, 12:21 am
- Look at the size of this image! It's massive!

And so is my thanks to the recent donations to Hotarugari. Thank you SO MUCH!!! I'll do all that I can to make Hotarugari a success!

Also, thank you everyone for all your questions last time! I didn't expect to get so many! Answers will follow with the next update.

And would you look at that. We're finally coming down to the end of this scene. And it's only 9 more pages before the END of this chapter. YEAH! LET'S KICK IT!

-SAL

***Check out Fairy Tales by skylarke! IT'S SUPER AWESOME!

***

Reply:

AngelicLily - Thank you, Lily! ^v^ Exciting, isn't it?

linki789 - Haha, it's a lovely mix!

MegamanZDevil - It took a lot out of me, but it's good to know it was worth it! Many thanks, Nickels!

HaKu10 - Of course, Ai-chan! Yumi makes sure nobody beats up Hotaru but her! XD And thanks! <3

Flik - Darn right~!

Andrew Wolfwood - Actually, although Yumi and Miyu look it, they're just friends that grew up together, so they've come to treat each other like siblings. But even after all they've been through, that doesn't stop them from punching one another. XD

CactusJuicy - Thanks! Between you and Yumi, Miyu doesn't stand a chance! And happy you enjoyed it, Juicy! :)

Almightyra, Shiuze - Thanks a ton! >V<

skylarke - You are most welcome! It's the least I could do, really. And thanks! ^V^ *hug*

Megan-Uosiu - Megan-Uosiu! Thank you very much!!!! Q//w//Q I'm such a fan of yours, too. Your art is incredible, and I love all of your comics! It gives me so much joy to know you feel this way about Hotarugari. Thank you! And yes, I use Sai! And lots of practice! >w<
Advertisement
, May 29th, 2017, 12:50 am
-
Reader Comments:




O_O OH MY!! SO MUCH ACTION.

GO YUMI!! D: <

posted by AngelicLily on September 20th, 2012, 4:35 am








-AND DRAMA- AND SUSPENSSE :D

posted by linki789 on September 20th, 2012, 6:12 am








THIS IS INTENSE! man all of these positions are just gorgeous. awesome job on the page

posted by MegamanZDevil on September 20th, 2012, 6:26 am








WHOA!!! Yumi can kick some butt!!! Go Yumi!!!
Poor Hotaru...I'm just glad that he's okay~
I hope that Yumi will be fine! ><
Great page, Sal-chan~ ;)

posted by HaKu10 on September 20th, 2012, 7:03 am





Anyone that can turn into a kangaroo on demand is no monster.

posted by Flik on September 20th, 2012, 9:49 am








Sibling feud, reminds me of me and my brothers.

posted by Andrew Wolfwood on September 20th, 2012, 10:07 am





Oh gosh hotaru looks so adorable right there. DON'T CALL HIM A MONSTER, MMK? I'll have to punch you.

Edit: oh I read fairy tales. Very cool, thanks for reccomending :)

posted by CactusJuicy on September 20th, 2012, 2:43 pm








punch the mess out of her

posted by Almightyra on September 20th, 2012, 5:31 pm








Amazing action! And..monster?! Noooo. ;-;

posted by Shiuze on October 2nd, 2012, 8:21 pm








Ahh! Thank you so much Sal! I checked this update on DA, so I didn't even see it until today. You're the best. *hug*

posted by skylarke on October 3rd, 2012, 7:58 pm








This comic is SO AMAZING!!! >w< I can't get enough of it! And I can't wait to see what happens next! And... it's all so PRETTY! O_Q Are you using Sai to colour this? And that water splashing and everything - I have no idea how you do all that~!! O_O'''' A-MA-ZING!!!!

posted by Megan-Uosiu on October 21st, 2012, 10:42 am







THAT MONSTER!!!

Hotaru has the most innocent look in the world right now lol he is by no means a monster.

posted by kittycatcupcakes on October 31st, 2012, 1:38 pm