» Comics - Chapter 3 - 31 - December 2nd, 2012, 11:11 pm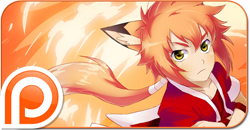 Like Hotarugari? Become a patron and help support it!
Creator's Comments:
salis
, December 2nd, 2012, 11:18 pm
- The storm has finally calmed down, but not these two! XD

As always, I'm super duper busy, (with family stuff, life stuff, general stuff-stuff,) but I'll keep trying not to let that get in the way of working on this comic. We are almost to the end of Chapter 3, guys! And then it's only two more chapters after that and the series is complete. It seems so close when I say it like that, haha!

-SAL

reply:

AngelicLily - So sad, right? ;__; Hotaru should be nicer to her after hearing this!

HaKu10 - Yeah, this chapter revealed a lot of Yumi's past, which is the saddest part of Hotarugari, but it'll make the ending all that much sweeter when we get to it. 8U8 And thanks, Ai!

forgotten_cake - Thank you---!! ;//v//; I'm looking forward to it, but I'm nervous too. I've drawn this comic for so long, I wonder what it'll be like when it's over.
And thank you, again! Reading that makes me want to draw this even more!
Advertisement
, July 22nd, 2017, 1:36 pm
-
Reader Comments:




;A;....Poor Yumi. -sniffle-

posted by AngelicLily on December 2nd, 2012, 11:27 pm








Wow, Yumi's expressing some deep deep scars now...kawai so. I want to hug her so bad!
Great page, Sal-chan! I'll write back to you soon! :D
And make sure to take a break every now and then! Don't overexert yourself, okay? :)

posted by HaKu10 on December 3rd, 2012, 9:28 pm








T-that does sound really close. ;_; I'm looking forward to reading the conclusion, though.
I love this comic. Your characters are great.

posted by forgotten_cake on December 9th, 2012, 3:51 pm