» Comics - Chapter 3 - 32 - December 9th, 2012, 3:30 pm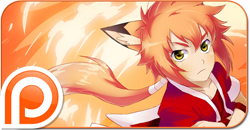 Like Hotarugari? Become a patron and help support it!
Creator's Comments:
salis
, December 9th, 2012, 3:38 pm
- Yay! Sunday Update! And I'm working on the next page right now. :3

Wah, I just realized the Smack Jeeves Awards is currently taking nomination suggestions! http://www.smackjeeves.com/forum/viewforum.php?f=50 Be sure to suggest your favorite comics before Dec. 30th! It'd be totally awesome if everyone would nominate Hotarugari, and a HUGE thank you to those that do!!

And don't forget to check out the new art on the Hotarugari Art Page too. More wonderful art from others: http://hotarugari.smackjeeves.com/art/

-SAL

Reply:

MegamanZDevil - Hee, I'm pleased you think so! This page was so fun to draw. >v<

crazybob - Thanks a million!! I realy appreciate it. And thanks for the comment, too!

HaKu10 - Thank you, Ai-chan! :D And me too. I like Miyu! It's too bad she's such a meanie.

skylarke - Yeah, if I were her, I would have kept the gun too. XD But knowing the beating Miyu's just been served, she definitely won't be trying anything.
Advertisement
, July 22nd, 2017, 1:37 pm
-
Reader Comments:




awwww snap yumi just took an intense level of badass rn. freakin' miyu's face in all the panels are mad adorbs ;v;

posted by MegamanZDevil on December 9th, 2012, 4:19 pm








Think i already nominated ya for one or 2. cant remember. Anyway, love this page, and someone got a reality check.

posted by crazybob on December 9th, 2012, 5:24 pm








I'll be sure to nominate for you, Sal-chan!!! XD
Intense page, intense page!! I'm glad that Yumi didn't shoot her friend. :)

posted by HaKu10 on December 9th, 2012, 10:12 pm








I agree with Yumi not shooting her, but if I were her I wouldn't be giving back the gun so readily...She was just shooting at Hotaru, after all.

posted by skylarke on December 12th, 2012, 3:10 am