» Comics - Chapter 3 - 40 - May 18th, 2014, 12:42 pm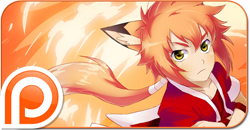 Like Hotarugari? Become a patron and help support it!
Creator's Comments:
salis
, May 18th, 2014, 1:08 pm
Chapter 3 COMPLETE! - Whew, we made it! TUT This chapter was a bit sadder and more serious than the others, (correlating to my real life and religion at the time,) but from here on, it gets lighter and brighter. Chapter 4 follows the gang to the capital city of Etto to open the gate that leads to the spirit realm! There's new characters to introduce, more punching, more transformations, outfits, curry, and something very special is about to happen to Hotaru! So excited about it!! Mwahahaha! >:D

Give me a while to finalize the script and panel layouts, and Hotarugari will be back for Chapter 4, baby. After that, it's the FINAL chapter! Huzzah!

-SAL

P.S. And a million thanks to everyone who voted on the Hotarugari Poll last time! We got a winning 78 votes for taking my time and producing quality pages, so I'll put my all into every detail, but I'll try to speed things up too, to show my appreciation for those waiting so patiently. It's truly a blessing to have your support!
Advertisement
, July 22nd, 2017, 1:43 pm
-
Reader Comments:




I'm happy this comic is back! It's a lot of fun to read and I'm looking forward to future updates. Your plans sound very promising. :D

posted by Glueckskeks on May 18th, 2014, 1:47 pm








yeaaahhhh it's back!! just reread the whole comic to fully feel the weight of this page n' i'm glad i did. it's really touching haha~ i love all the panels but my favorite is definitely the last one. that's a great hand you drew bro. daaang Naoki you look so cool as a bird! it's so fun to see all the different types of animals you draw for this. can't wait to see more! as well as what's to happen in chapter 4~ it'll certainly be exciting with all the new types of characters. good luck on the script n' layout, n' of course doing the actual pages

posted by MegamanZDevil on May 18th, 2014, 3:30 pm








YAY! AN UPDATE!!! Ohhhh! Does Hotaru get another tail maybe?! Kyaaaa! I can't wait for your next update! You really should send this to publishers! It is SO GOOD!

posted by Ninja Kitten XP on May 18th, 2014, 5:13 pm








Happy to see you back in the game.

posted by Andrew Wolfwood on May 18th, 2014, 7:47 pm







An Update

Uwaah~ I'm so happy! T^T

posted by SJNinja on May 18th, 2014, 9:54 pm








Glad you're back! Chapter 4 promises lots of fun - can't wait :D

posted by Keliose on May 23rd, 2014, 3:23 am








Nice ...now I'm eager to read the next chapter (^___=)

posted by JoKeR on June 9th, 2014, 5:58 pm








You just caught yourself another fan~~ Looking forward to Chapter 4! >w<

posted by vietblueart on June 9th, 2014, 8:25 pm





Ahhh it is quite a nice end for a chapter, although it was a bit sad until now. However, sun has risen and it's all ok now 8'). Long time has passed since I read hotarugari, but I didn't forget about it and I look forward to reading more in the future >v<)/ hotaru is still my favorite kitsunee!

posted by Kukiko (Guest) on July 11th, 2014, 4:10 pm