» Comics - Chapter 4 - 06 - May 31st, 2015, 11:16 pm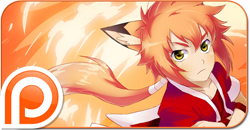 Like Hotarugari? Become a patron and help support it!
Creator's Comments:
salis
, May 31st, 2015, 11:28 pm
- Late update because of other due dates, but I managed to get this page out anyway! Thanks for waiting!!

-SAL

Replies:

CrowWingedAngel - Thank you, I love them too!

SJNinja - Me too! We're FINALLY getting into the inner workings of their world, one of the coolest parts, and I'm so eager to show you more. Steve doesn't know squat about these rules either, so it's going to be lots of fun making him miserable with them. Mwahaha.

NaginiFay - Thanks tons! It was a lot of work, but fun too.

Lilyka - Thank you so much for taking the time to tell me that! Getting such a positive response makes me love working on Hotarugari all the more. I'll keep at it for you! :'3

thegreatawsum1 - It's so wonderful that you notice things like that! Providing information about their world without slowing down the story sure is tricky, but I'm so pleased to know my efforts are paying off. We may have a short lecture later, but I'll try to keep it minimal. And thanks!

IndyGo - And I really want to show more of it too! It's so fun getting to share these details. In fact, Hotaru could have lost the use of his left arm PERMANENTLY if the channel had been separated completely. Lucky Yumi was there to patch him up!
(Really? I'll have to look this up! I've never played Tales of Phantasia, but Tales of Symphonia was really fun! :D)

EEVEELOVER!!! - Thank you! I'm so happy you're enjoying it!
Advertisement
, May 29th, 2017, 12:50 am
-
Reader Comments:




That second panel is so cool! I love your spirit channels!

posted by CrowWingedAngel on June 1st, 2015, 9:25 am





I'm so stoked. You had mentioned that you had some sort of rules set out as to how this world functioned, but I feel like this is our first real glimpse of them. I love their interaction as always. I'll be expecting an upset Steve next page. Baby.

posted by SJNinja (Guest) on June 1st, 2015, 12:03 pm





This is such a cool page!

posted by NaginiFay on June 1st, 2015, 5:51 pm








I love this comic, and every page you post just makes me love it even more. Thank you for this awesome comic, and I can't wait to see more! :D

posted by Lilyka on June 1st, 2015, 9:35 pm








You managed to communicate a LOT about your world in this one page without resorting to any exposition, and you threw a hilarious expression in to boot!
Very cool. :)

posted by thegreatawsum1 on June 4th, 2015, 11:34 pm





Really interesting world-building! I really hope to see more how mythological spirits work. That rip looks pretty severe though.
(Actually, when I look at the spirit channels inside Hotaru, it had me thinking back to Tales of Phantasia and how that had Klarth, a spirit summoner, use tattoos similarly shaped to the spirit channels you did)

posted by IndyGo (Guest) on June 9th, 2015, 1:28 pm





I really like your comic! Its funny and awesome!

posted by EEVEELOVER!!! (Guest) on June 23rd, 2015, 8:53 pm