» Comics - Chapter 1 - 01 - December 27th, 2009, 10:10 am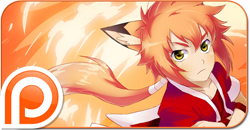 Like Hotarugari? Become a patron and help support it!
Creator's Comments:
salis
, December 27th, 2009, 10:15 am
Hotarugari! - This is the cover, chapter page, and first page of the comic. Cuz I know how annoying it gets when a webcomic's first few pages are different title pages. (That, and I haven't drawn the cover yet.) So let's just cut to the chase!

...I'm serious. Let's get to the chase scene already!

-SAL

Reply:

Hunterkirizaki - Thank you! >w< I shall draw more pages~!

LockedComplex - You don't know how happy I am to hear that! Thank you! ;w;

flying-angel - Double yay!! And thank yous! :D

MadMindInk - That means the world to me coming from an awesome artist as yourself! Thanks so much!!

celiex3 - Thanks!

KawaKitsune - Aw, you're so sweet. Thank you!

ZenOkami - Yay! I'm so happy to hear that! Thanks a ton! :3

bookaddict209 - Indeed I do! You can check out more of my artwork at salison.deviantart.com!
Advertisement
, July 22nd, 2017, 1:44 pm
-
Reader Comments:




:D Loving the art. I shall read~!

posted by Hunterkirizaki on December 27th, 2009, 10:28 am







Crow

Awesome!!! I Love it!

posted by LockedComplex on January 14th, 2010, 12:15 am








Yay!!! Now I can fav it and keep with the updates! =D

posted by flying-angel on February 1st, 2010, 8:09 pm








page one and i want to instantly fav you just for the art!

posted by MadMindInk on February 8th, 2010, 3:10 am








congrats!

posted by celiex3 on July 10th, 2010, 7:57 am








superb art, I wish I had your skills.

posted by KawaKitsune on August 1st, 2010, 8:35 pm








do you have a deviantart page? i want to see your other art, if you have any

posted by bookaddict209 on August 22nd, 2010, 9:46 am








HOLY. FRIKIN. CRAP.

This is gonna be goooood...

posted by pwii on October 24th, 2010, 9:59 pm








Sweeeeeet!!

posted by Nacht Krieger on January 7th, 2011, 7:14 pm








Lovely cover~~~

posted by RikkuH on May 13th, 2012, 12:29 pm