» Comics - Chapter 1 - 02 & 03 - December 27th, 2009, 11:00 am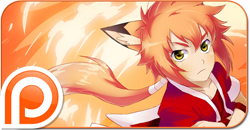 Like Hotarugari? Become a patron and help support it!
Creator's Comments:
salis
, December 27th, 2009, 11:22 am
- Two-page spread! Yay! And it's overflowing the template!! 8D

I have to thank my good friend for helping me with the lighting in this one...

Thank you my good friend!

And heads up to the fact that the first few pages of this comic doesn't have any words. :P

-SAL

Reply:

SomeDutchDude - Th-thank you! :w: I'm hoping to improve my art through this comic. Practice makes perfect!
Advertisement
, May 29th, 2017, 12:48 am
-
Reader Comments:




Your art...
...is awesome...

Count me in! :)

posted by SomeDutchDude on December 27th, 2009, 11:39 am








= A = ...aw...I have read the comic again (sorry for my english) because just now i noticed that you replied like 99% for every comment( O <> O ) so I wanted to read them and now I see that...well...2 things:
1. the fox(I don't know his name yet) at first he don't have that necklace (I don't know how to write it = A = ) ;sorry I am not very good at the section ----> Details <----
2.This page looks like a screenshot!
> w< cool!

posted by ChiakiAida on January 20th, 2010, 11:42 am








To ChiakiAida:
Thank you! Your English is really good! And yes, I reply to almost every comment! I love to read them very much. ;3

The fox's name will be said later in the comic, but I will tell you now; his name is Hotaru. I will add him to the Character's page for you! And thank you again!! >w<

posted by salis on January 20th, 2010, 1:59 pm








TT . TT happy ...so happy...
> W < I can\t believe that you already put him in character page
banzai~ yay just 14 years!MORE 3 for me and I will be 14 too ... O x O..t ...lol so that means after 7 years yumi will be 28? *calculating the date of when (maybe) I will marry Ho-ta-ru right.I remeber his name!a record for chiaki~ another banzai!~

let's see how compatible we are XD then:
the similar things:young,kind of stupid,make fun ,hmm...extremely creative (but not the only strong point tough) likes fireworks games dislikes rules (except the rule that a boy can't hit a girl Mwahahah) water (I tried my best but I still can't swim!)humans(sometimes I don\t like that I am a human... Maybe a bird... hmm..well...maybe I would vomit ...then a type of fish?or a cheetah or a sly fox + all my classmates already have boyfriends/girlfriends and 70% ..no...90% didn\t even watched an anime or a manga but they say that is childish!and 60% of girls want to marry!
ok now I want to marry too but not with a real person,a anime or manga or comic person well another reason for to not want to be a human yea~ I am crazy and I like that I am crazy~/////I am just myself)

-chi/chiaki
P.S: lol 0 - 0 such a looooooong comment!

posted by ChiakiAida on January 20th, 2010, 2:36 pm








To ChiakiAida:
I'm glad you like Hotaru so much!! You are so kind! <3

posted by salis on January 21st, 2010, 9:57 am







woow

OMG your drawings are perfect im stunned

posted by montoch on November 18th, 2010, 7:35 pm








Yea this page has some amaaaaazing details

posted by MDS on December 21st, 2010, 5:02 am








that girl kinda reminds me of aqua from kimgdom hearts.anyway,this is awesome! i wanna read more..

posted by Adrian Ravenhart on January 25th, 2011, 10:07 pm