» Comics - Chapter 1 - 4 - December 27th, 2009, 11:40 am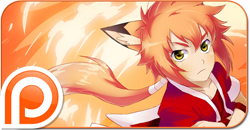 Like Hotarugari? Become a patron and help support it!
Creator's Comments:
salis
, December 27th, 2009, 11:43 am
- That's... that's the kitsune/fox from the previous page in the first panel. It looks kind of like a big rat though. >.<;

I will try harder!! OAO

-SAL

Reply:

ChiakiAida - You're so kind! Thank you! I experimented a lot before choosing this style of toning, so I'm glad you like it! And 2xthankyou for your comment! The site template still needs a few tweaks, but I'm working on it! Yes! >w<

choco-d - Thanks so much! That really means a lot to me. I'll try to keep it up!
Advertisement
, May 29th, 2017, 12:50 am
-
Reader Comments:




Wow , I like so much how you tone the pages and 2xwow cuz~ you already made the template of site and is very cute~

posted by ChiakiAida on December 27th, 2009, 11:53 am








Wow, I have to say, really excellent artwork here.

posted by choco-d on July 30th, 2010, 11:20 am