» Comics - Chapter 1 - 05 - December 27th, 2009, 3:01 pm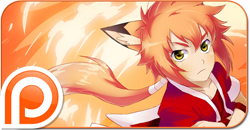 Like Hotarugari? Become a patron and help support it!
Creator's Comments:
salis
, December 27th, 2009, 3:10 pm
- Not my most favorite of pages, but it'll do. There's a lot I want to fix... but I can't make any progress if I keep coming back. Moving forward... Moving forward!

-SAL

Reply:

MadMindInk - Thank you! I like it too. :3

kitana89 - Thank you very much! I hope I can improve my art a bit while working on this comic.
Um, I think it takes me at least 6 hours to draw a page, but sometimes longer. You can find out more information on the About page. Thanks for reading!
Advertisement
, July 22nd, 2017, 1:40 pm
-
Reader Comments:




haha i love it XD

posted by MadMindInk on February 8th, 2010, 3:11 am








and...que facepalm!

posted by choco-d on July 30th, 2010, 11:21 am





Haha, that's awesome.

posted by aselfmadewinter on October 26th, 2010, 1:23 pm





d'awwww i wanna huggle it!

posted by lilmissbunnybitch on January 20th, 2012, 10:09 pm