» Comics - Chapter 1 - 06 - December 27th, 2009, 3:40 pm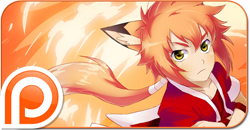 Like Hotarugari? Become a patron and help support it!
Creator's Comments:
salis
, December 27th, 2009, 3:52 pm
Blur it once, shame on you - ...blur it twice, shame on me. :0

Yeah, had too much fun with the blur effects in Photoshop. Made it kind of messy. :\ I fixed what I could, but I'll just have to stick with the rest.

More pages a comin'!

-SAL

Reply:

ChiakiAida - Oh yes! Action packed! XD Ha ha, and congratz! You're the first to comment!
Advertisement
, May 29th, 2017, 3:41 pm
-
Reader Comments:




haha~ a page full with action!first comment!yay~XD

posted by ChiakiAida on February 26th, 2010, 7:38 am