» Comics - Chapter 1 - 09 - December 28th, 2009, 11:50 am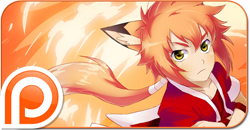 Like Hotarugari? Become a patron and help support it!
Creator's Comments:
salis
, December 28th, 2009, 11:57 am
- Yumi has a lot to learn about kitsunes! XD

EDIT: Changed her eyebrows on the 3rd panel. My mom didn't like them. :0

Reply:

SomeDutchDude - Thanks! I like the expressions too. They're so much fun to draw! >w<

MiyukiZ - Yes, you're right! She needs to get the necklace on the fox/kitsune so that he will obey her. XD
Thank you so much!!

2955 - Yup yup! XD Kitsunes can transform into almost anything! Pots especially! >:D

magekotarou - And too tricky for Yumi!
Advertisement
, July 22nd, 2017, 1:32 pm
-
Reader Comments:




Best page yet.
Love the expressions! :D

posted by SomeDutchDude on December 28th, 2009, 11:56 am








She trying to put necklace on the fox, yes?
I love it so far ^^

posted by MiyukiZ on December 28th, 2009, 11:58 am





OMG! THE JAR HAS EYES ZOMG!! xD

posted by 2955 on December 28th, 2009, 12:11 pm








tricky fox is tricky

posted by magekotarou on January 10th, 2010, 12:08 am








lol she needs to be on failblog cuz she just epic failed

posted by makinsushi on February 21st, 2010, 8:23 pm








haha, she fails.
is a spirit (demon?) fool.
Those things can transform.

posted by Kafeole12 on May 22nd, 2010, 6:51 am








watch out for teh evil jar!

posted by choco-d on July 30th, 2010, 11:23 am







Bwah!

I see it coming... She's going to get pwned by a kitsune that was transformed into a jar temporarly! To make it short: She's gonna get pwned. XD

posted by Roxas-Sora1999 on August 11th, 2010, 12:13 pm








XDD Shapeshifter! I knew it! 8D Thank you, Pompoko.

posted by *Suki* on August 12th, 2010, 7:31 pm