» Comics - Chapter 1 - 13 - December 30th, 2009, 9:45 pm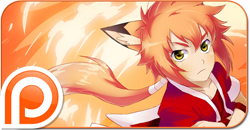 Like Hotarugari? Become a patron and help support it!
Creator's Comments:
salis
, December 30th, 2009, 9:50 pm
- Now that we're getting more into the story, there's a bit more dialogue!! Yeah man!

Erm, that's a sunset by the way. Not a sunrise. >:\

-SAL

Reply:

Living Rock - Thank you very much! The 'Poof!' panel is my favorite. I had a lot of fun drawing that one. >w< Thank you, thank you!
Advertisement
, July 22nd, 2017, 1:41 pm
-
Reader Comments:




Yay~ More dialogue!Banzai~

posted by ChiakiAida on December 31st, 2009, 5:31 am








The art in this comic is excellent. I love the fox's expression in the Poof! panel. Fav'd.

posted by Living Rock on December 31st, 2009, 10:02 am








Necklace reminds me of inuyasha ;^;

posted by Ai Ataru on March 22nd, 2010, 6:21 pm








@ ai: thats exactly what I was thinking.
I like the fox alot.

posted by Kafeole12 on May 22nd, 2010, 6:54 am







8D

I love this entire page, specially the top. Great job. :D

posted by Leeverbones on September 18th, 2010, 7:19 pm








I want that foxy!

posted by Anishka on December 10th, 2010, 5:47 pm







Just Started reading.

I have to say that I really like your art style. the pacing is good and your expressions are fun to look at. I'm definitely going to keep reading.

posted by SamuraiOtaku on January 2nd, 2015, 12:41 am