» Comics - Filler - 100+FANS! - January 18th, 2010, 4:28 pm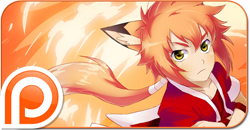 Like Hotarugari? Become a patron and help support it!
Creator's Comments:
salis
, January 18th, 2010, 4:38 pm
100+ fans! - Quick pic to thank all of those who have added Hotarugari to their favorites! Thank you~!! K3 You are all wonderful people!

...I just hope you all added this comic to your favorites for other reasons besides this kid here. XD

-SAL

Reply:

Kandri - Ha ha, the truth comes out! XD Thanks so much!

SolaratheHedgehog - Oh good! He's your second reason then. This pleases me! >83

Cherri - Ha ha, oh well. At least you have the courage to say it! XD And thank you!! I really enjoy making this comic, so to have others enjoying it too is icing on the cake!

Cupid - You are so kind to say that! Thank you! ;v;

ChiakiAida - Ha ha, I'm glad you like him! XD And thank you! Your comments are always so nice to read!!
Advertisement
, July 22nd, 2017, 1:42 pm
-
Reader Comments:
Curses, I've been foiled! D:< Nah just kidding, I love the art, the characters, the plot, and everything else about this comic <3

Congrats on 100 fans! :D I bet you'll get 200 really soon.

P.S. 1st comment!

posted by Kandri on January 18th, 2010, 5:00 pm





I fav'd the comic because of two reasons:
1. It's an awesome comic
2. The kitsune kid is cute :3

posted by SolaratheHedgehog on January 18th, 2010, 5:01 pm







Congrats! XD

I faved it because its awesome, funny, cute, and I love foxes! XD I agree more fans are sure to come! ^_^

posted by Cupid on January 19th, 2010, 12:37 am








aw~ He is cute even he is sad or happy angry or...girly ~ XD 5\5 for this EDIT:
ah just now i noticed the author comment
Not just for fox.Is because the art is very good te story and how early is updated.And I like the characters

posted by ChiakiAida on January 19th, 2010, 2:57 am








i JUST DIED c:
Hess soo cute.
*Faves.
GREAT JOB.

posted by Ai Ataru on March 22nd, 2010, 6:27 pm







Oh Gawd

This is gonna sound weird, but I want his babies... O_o

posted by dontthinkicare on August 16th, 2010, 9:40 pm