» Comics - Chapter 1 - 28 - February 28th, 2010, 9:49 pm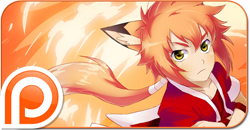 Like Hotarugari? Become a patron and help support it!
Creator's Comments:
salis
, February 28th, 2010, 10:35 pm
- And... now you know Hotaru's full of vengeance!! Gah! D:

Oh, and the Character's Page has been updated with Nephi's profile! :3

My tablet broke right as I began inking this page. T_T (It's not even a year old yet! Why did you have to die, Tablettoo?! WHY?! ;A;) So I had to use my sister's tablet to finish this up. I'm going to see if I can get my tablet replaced/repaired... >:P

-SAL

Reply:

.Poena. - Ha ha, yeah, you're either Nephi's food or her friend. X3
And thank you~! <3

FoxDemonHikaru - Aw, why not?! Revenge is so sweet. >:3

SkullzMelody - Ho ho ho, I'm sure if you had an aunt like Nephi, she'd say you look cute enough to eat! XD
Ha ha, glad you enjoyed Nephi's profile. Wait, that sounds good! I'll add a ':D' in there. Now maybe you'll wake up your mum this time! >83

Jazeki - Yeah, it was either going to be the death of Hotaru's mother or his sister which made him hold a grudge against all priestesses, but his sister looked exactly like him but with pigtails, so I decided to go with his mom instead. XD

ChiakiAida - Ah, I know, Hotaru's got it rough! But don't cry, Chiaki-Chan! Things will work out for the better eventually. I promise you!! ;)

magetarou - Ho? Wouldn't she now... >:3 But yeah, Hotaru will learn that Yumi's not a crazy, evil priestess like the others... She's just crazy. :0

godmoderncommander - ...That is very true. Unfortunately, this isn't going to end well for anybody. D:

SolaratheHedgehog - Yup, that's about as deep as it gets in this comic. XD


NekoKira - Oh no! Not the spray bottle!! Anything but that! OAO

Hyli_Tuben_Mechanic - Ha ha, rooting for Hotaru then, are you? >:3 I'd like to see both of them get eaten, myself. (I always tend to hate my main characters. I dunno why. XD) But we all know that can't happen... *evil chuckle*

Amante-kun - Oh thank you! Thank you! <3 I'll try to get more pages up soon!
Advertisement
, July 22nd, 2017, 1:44 pm
-
Reader Comments:




weird how she was all "im gonna
eatcha!" before, and now she's all
"ima eat whoevah messes witcha!"

0_o...love this comic by the way. :)

posted by .Poena. on February 28th, 2010, 10:41 pm








NOOOOO!!! Hotaru!!! dont kill her!!! D;

posted by FoxDemonHikaru on February 28th, 2010, 11:06 pm








Aww poor Hotaru. That's sad to know his mom was killed by a priestess

posted by Jazeki on February 28th, 2010, 11:35 pm








I join nephi fanclub~ and...I AM GOING TO CRY TT^TT....hotaru-kun daijovu ~ all will be alright poor boy~Let me hug you~

posted by ChiakiAida on March 1st, 2010, 1:38 am








it's sad about hotaru's mother. but not all priestesses are bad! I mean hopefully Yumi would never...

posted by magekotarou on March 1st, 2010, 12:13 pm








...This is going to end very badly for Hotaru.

posted by godmoderncommander on March 1st, 2010, 12:42 pm





wow, now THAT'S deep SAL

posted by SolaratheHedgehog on March 1st, 2010, 1:01 pm








Why Steve? WHY?! D:
You go through with this and I will get the spray bottle, meester! D:<

posted by NekoKira on March 1st, 2010, 2:10 pm







okay...

I know I'm supposed to be rooting for Yumi to live, but...poor Hotaru! His poor mom, and he's so cute, and...and...!

posted by Hyli_Tuben_Mechanic on March 6th, 2010, 8:40 pm








Ahah I just read the whole archive right now and I gotta say I'm loving it so far! Definite fav!

posted by Amante on March 6th, 2010, 11:44 pm








I would not have let her hug me.
his mom is dead?
T.T... why does misfortune always come upon the Hot ones?

posted by Kafeole12 on May 22nd, 2010, 7:11 am