» Comics - Chapter 1 - 31 - March 14th, 2010, 10:03 pm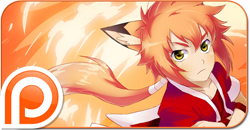 Like Hotarugari? Become a patron and help support it!
Creator's Comments:
salis
, March 14th, 2010, 10:19 pm
- Not much for this page. XD

Man, I'm getting kind of tired of drawing spiders. And the next chapter is full of them! T_T

-SAL

Reply:

KimchiJigae - Thank you! <333 Thank you so much~! You are so nice! I'm so happy you like it! ;u; I'll keep trying to improve in every page I make!

Aww, you make me want to draw a hundred spiders now! >w<

inuyashatori - Ha ha, I sure hope so! And thank you dearly!! Hearing that makes me so happy! <3

SkullzMelody - That would be my expression as well. Only I'd be shouting "OMG!" at the small spider. XD

Not at all! Please! I want to see if you can predict where this story is going. >:3 If my story is too predictable, I might try switching some things up a bit. And thank you!

FieryAnimated - All good ones, I hope. XD

Jazeki - Ha ha, I know! I wouldn't step into the cave to begin with! And thanks! ;)

ChiakiAida - Yay~! I'm happy you said that! I want to make this comic feel as much like an anime as I can. :3

Oh yes! I forgot! I said I'd make a tutorial for you to show you how I draw things! I will finish that and post it on DA soon! So you will know all my drawing secrets! >w<

SolaratheHedgehog - Thanks so much, Solara! <3

godmoderncommander - Eep! Curse words scare me. Please don't swear. <:3 And thanks for the comment!

NekoKira - And plenty of courage! XD

magekotarou - Thank you!! I'm so happy everyone likes my spiders. Now I feel like I could draw spiders forev- er, I mean for the rest of this comic!! Yes! X3

HaKu10 - Same here! Same here! I don't want spiders near me, but they're just so cute! ...I will virtually highfive you now for being awesome like me! >:3 *highfives*

Hyli_Tuben_Mechanic - Ha ha, oh yeah! And I'd be right behind you. >w<

ChiakiAida - No apology needed! You can comment as many times as you want to. ;3
Yes, you're right! Yumi is not that easy to beat. But outnumbered by giant spiders, she probably can't win against Nephi... :0
Well, this comic is manga inspired, I guess. It's in an anime-like style, but it's read left to right and has a few western influences, but I'm not sure what type of comic this is exactly. XD
And thank you for the update! I would never have guessed this comic would have 260 fans! Thank you everyone!!
Advertisement
, May 29th, 2017, 12:49 am
-
Reader Comments:




Waaah this comic is CRAZY GOOD! <333 I love how you draw all the characters so animatedly, each of them has a unique personality! And a wonderful style to boot! <8'D

Hee hee I like how you draw spiders. xD

posted by KimchiJigae on March 14th, 2010, 10:27 pm








Well just think,by the end of this chapter you'll be so amazing at drawing spider's you'll become famous for it!!
Btw,I love this comic! It's amazing! The main character's are just so funny! I can't wait to see it progress! <3

posted by inuyashatori on March 14th, 2010, 11:30 pm





I'm having personal flashbacks!

posted by FieryAnimated on March 14th, 2010, 11:49 pm








I'd be running in the other direction by now. You draw lovely spiders btw. lol.

posted by Jazeki on March 15th, 2010, 12:11 am







Nice nice nice

You are improving every page with a more anime styleT . T!Nice work too~ ugh ... still want to comment first ._. ugh.... well...at least I can spam with my comment >w< mwahahah~by the way I really like yumi this page!
EDIT:hehe... maybe you want to tell me some of your drawing-like-a-pro secret ~w~?

posted by ChiakiAida on March 15th, 2010, 2:22 am





nice page, and I agree with Chiaki

posted by SolaratheHedgehog on March 15th, 2010, 8:31 am








If she is scared from this, wait until the spider lady comes around and she will shit her pants then.

posted by godmoderncommander on March 15th, 2010, 10:47 am








Gunna need a biiiiiiiiig newspaper. >.>

posted by NekoKira on March 15th, 2010, 2:15 pm








awesome spiders!

posted by magekotarou on March 15th, 2010, 6:19 pm








I'd be freaked out, too! But, they're so darn adorable! I like spiders, just not up close! ^^

posted by HaKu10 on March 15th, 2010, 8:02 pm








oh god, it begins...
I would have that same expression. Only accompanied with frenzied running, most likely in the wrong direction.

posted by Hyli_Tuben_Mechanic on March 16th, 2010, 1:35 am








Sooooorry for another comment but I really like this fan job~

I think that when its going to get worse maybe hotaru-chan's consciousness (yes yes from now he will be for me hotaru chan) will come to knock at the door and he will remember some of his mom's words and then will heroic save yumi-tan ~ w~ yes yes. I believe that he is not that bad ~and I also believe that yumi is not that easy to beat= .=
EDIT: wait a moment...that is the clasic one...you said you make the comic western...and some..thing ~ . ~ sorry sorry I have a bad memory (that's the reason with I get such bad grades at some subjects...~.~)
EDIT(oho new record): you have 260fans!if you update with more 3 pages I am SURE that you will have 300fans already!>w< isn't it so cool!?you are soo cool Ahh...sal-sama...oOHHH sal-senpai,

posted by ChiakiAida on March 16th, 2010, 11:32 am








lol, omg indeed

posted by AmoriiBlossom on December 12th, 2010, 2:48 pm








LOL!

posted by Nice-ness on October 30th, 2015, 10:04 am