» Comics - Chapter 1 - 32 - March 22nd, 2010, 12:03 am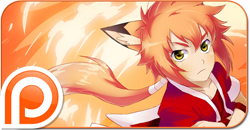 Like Hotarugari? Become a patron and help support it!
Creator's Comments:
salis
, March 22nd, 2010, 12:03 am
- And Yumi is overtaken by shock, anger, and disgust! XD

Oh wow... I just finished these last three pages all at once! Go me! K3
Anyways, the end of this chapter is near!

-SAL

Reply:

ChiakiAida - Ooh! You got the first comment! >:3
Ha ha, yeah! Yumi should have known sooner that this was a bad idea. Caves are never good places!

DanaBoBana - Thanks so much~! <333 I love your work as well!
Advertisement
, July 22nd, 2017, 1:34 pm
-
Reader Comments:




Oho~ yumi is intelligent ...weell...she should have discover faster XD oho~ bad kitsune bad kitsune~

posted by ChiakiAida on March 22nd, 2010, 2:59 am








This is really good so far! I love the artwork <333

posted by DanaBoBana on August 24th, 2010, 3:16 pm








i personally like the 4-thumbs up joke P:

posted by puffy_chan on November 25th, 2010, 2:54 pm