» Comics - Chapter 2 - 01 - April 18th, 2010, 11:05 pm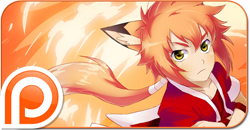 Like Hotarugari? Become a patron and help support it!
Creator's Comments:
salis
, April 18th, 2010, 11:12 pm
Chapter Two! - It's finally begun!! Well, sorta. For this comic, the chapter covers and page 1 of every chapter are always combined, so you'll have to wait for page two before we get into the dialogue. >3<

And next page will be up soon, I promise. I caught a cold, or a flu, or something, and I'm not feeling so hot, so... =A=

Ha ha, remember where we left our heroes? XD

-SAL

Oh yeah! While you're here, check out the new fan art from Chi-chan on the Gifts Page! Thank you, my dear! ;v;

Reply:

godmoderncommander - You betcha! It'll be done in the hottest way I know how! Eeks! Who keeps shooting at us?! OAO

HaKu10 - I can't talk, I don't have an appetite, and I get dizzy every time I stand up, but I'm OK! XD Daijyoubu! Daijyoubu da! Shinpai shinaide kudasai! ;w;
And thanks! I'm happy to be home! >w< And double thank you! Drawing Hotaru's face like that was the best part of this page.

godmoderncommander - LOL, that's what I want to know! There must be a sniper out to get us or something! XD

Cherri - Thank you! I will try to get well soon! ;3
It will be tricky, that's for sure, but they've gotta get out somehow! There's still three more chapters to this comic! >w<

Jazeki - Ha ha, so scared! He kind of looks like me when I realize it's Sunday, and I haven't finished the next Hotarugari page yet. XD

SkullzMelody - Me too! LOL, I want to draw that so bad!
And thank you! ;D

ChiakiAida - Thanks, I'll try to get well! Oh no, I must have gotten you sick too! Hope you feel better! <:0
And thanks! I'm glad you like this one!
Ha ha, so it was you all along! I knew it! =v=

Hyli_Tuben_Mechanic - Oh ho, yes! He'll be in deep trouble! X3 I'd have to say Yumi's wrath is a whole lot scarier than a bunch of flesh-eating spiders.
Advertisement
, May 29th, 2017, 12:49 am
-
Reader Comments:




...I predict there will be a catfight in the most hottest way possible XD.

*shot for this comment*

...Man am I getting shot latel-*shot again*

posted by godmoderncommander on April 18th, 2010, 11:15 pm








Odaijini, take care, okay? I hope you feel better! ^^
And welcome back, btw! I forgot to say that earlier! ^^;
Anyway, I love Hotaru's face! It's priceless! ^^

posted by HaKu10 on April 18th, 2010, 11:19 pm







O_O

Wait. If you agree with me, then who shot me?!! *shot again*

DAMNIT!!

posted by godmoderncommander on April 18th, 2010, 11:20 pm








Oooh, chapter two. Poor Hotaru. He looks so scared.

posted by Jazeki on April 18th, 2010, 11:38 pm








awww dear get well how soon you can!no good to be ill!no no. by the way the cover is very cool~ like always~
EDIT: L.O.L for Hotaru >W< His face is the funniest I have ever seen! many bows for hotaru.

EDIT: I was the one who shooted =w=. MWAHAHAA*cough* ....ne ne , now I am ill too.... SERIOUSLY TALKING -.- I have fever....isn't it from you ?=u= well.... I saw around 3 poeple sick on da -w- so I am not sure.

posted by ChiakiAida on April 19th, 2010, 1:17 am








lol
when (if) they get out of this, Hotaru's going to be in some deep stuff.
X3

posted by Hyli_Tuben_Mechanic on April 19th, 2010, 7:59 pm





Hot Dang. They're about to drank up in their cup.

posted by Juice (Guest) on April 23rd, 2010, 3:28 pm