» Comics - Chapter 2 - 06 - May 26th, 2010, 12:19 pm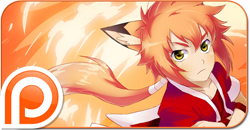 Like Hotarugari? Become a patron and help support it!
Creator's Comments:
salis
, May 26th, 2010, 12:35 pm
- *sigh* I love corny-ness~! Expect a lot of it in this comic. XD

Also, I decided to make a character sheet for Hotaru. Since I can't ever seem to draw him the same way twice, this might help me be a little more consistent. I've also got a lot of people wanting to draw fan art but I don't have proper pictures to give as reference! T_T So I'll be making character sheets for all the main characters of Hotarugari, (Yumi is next!) and I'll be putting them up on the Characters Page underneath each character's profile picture as I go. Mwahahaha!! >:3

-SAL

Reply:

Jazeki - I know! Hotaru's completely confused by all this. Yumi's a tough cookie to figure out. XD And thank you!

Ai Ataru - Just kinda~! >w<

KirtiMiko - Ho ho ho! Exactly! He's already betrayed her once, yet she's willing to trust him again. Will he come back for her, I wonder... >:3

HaKu10 - Ha ha, yes he should! Hotaru's just standing there lookin' like a dope. He needs to do someting! XD

SkullzMelody - I know! I love drawing Hotaru looking dumbstruck! He's just so funny when he makes that face. XD
Oh yeah! Yumi is a fighter! >:D And Nephi makes me laugh too. It's sad that she won't be around for the entire comic.
Advertisement
, July 22nd, 2017, 1:37 pm
-
Reader Comments:




This is a surprise, Yumi attempted to protect Haru.

Oooh, character sheets sound cool. <3

posted by Jazeki on May 26th, 2010, 12:53 pm








relationship kinda growin >.<?
kinda cute,aha.

posted by Ai Ataru on May 26th, 2010, 2:06 pm








... Why does she assume that he'll tell her once he finds it?

posted by KirtiMiko on May 26th, 2010, 2:36 pm








Uh, oh, spaghetti-O! 0_o
I miss those commercials...but in all seriousness, Hotaru should try to do something. ^^

posted by HaKu10 on May 26th, 2010, 7:12 pm