» Comics - Chapter 2 - 12 - July 17th, 2010, 8:22 pm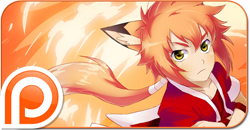 Like Hotarugari? Become a patron and help support it!
Creator's Comments:
salis
, July 17th, 2010, 8:41 pm
- Uh oh, he's hesitating... you know what that means. ;0

He's thinking of a another lifesaver he knows and whether he should go back for her. Yeah, Yumi's not dead yet. If she was, the magical beads around Hotaru's neck would have come off.

That's the end of that scene. I realize now this comic is going too slow, so I'm gonna streamline the storyline a bit. Hotaru is so boring. Let's get back to Yumi and Nephi duking it out!!! >8D

-SAL

P.S. I updated twice this week! Yay! And the Art page has been updated!!

Reply:

MegamanZDevil - Ha ha, yeah, I should be updating more often for you guys. At least I'm semi-consistent at updating randomly...? ;u;
And aww, thanks, bro! Just you saying that makes me so happy~! <3

MonkeyBoy - But his problems would be solved if he'd just get out now! X3

Jazeki - Yup. He kinda owes her one for saving his tail. XD

gizumimipichu - I wish I could do double updates every week. These pages are so slow and boring lately. XP

angelbliss - Saving her is going to be tough though. Nephi's one mean spider lady!

cherri - Yeah! Hotaru will need to tell him to "hang" around until he comes back. Ah ha ha! XD

MayelV - I'd get out if I were him, that's for sure. He's crazy if he thinks he can save her from Nephi and her spider children! XD

SkullzMelody - Ha ha, you will! You will! Next page is action packed, I assure you. Guns blasting and web shooting all over the place!!
Aww! Hee hee, thanks for saying that! Yeah, my birthday is on the 21st of July. It's coming up so fast. Ha ha, but don't do it if you don't want to! I don't want you to feel obligated.

HaKu10 - Hee hee, I know! Somebody needs to whack that kid over the head and tell him to go save that girl now! >:D

ChiakiAida - You're right. This page is a bit sad. Maybe because he feels so guilty about all of this… or maybe because it's so boring, I'm not sure. XD
Oh, ha ha, yes! Tanuki can turn into a long rope, but not as long as he wants. If Hotaru was farther down then tanuki probably couldn't reach him.
Sure! I'll look to see if I have any more of my old works and I'll post them on the art page for you next time. ;)

rinalicat - Aww, that's not embarrassing! You call him so endearingly! I call him "stupid"
or "fox kid" or "stupid fox kid" most of the time. XD

Everlong - Ha ha, so true! So true! And whether the danger of going back is really worth it. XD

SolaratheHedgehog - And he better do it fast, too! Cuz Yumi won't last much longer!

Kinishima - I know. That stupid conscience of his. It's late at kicking in. XD
Oh, the title? It actually doesn't have much to do with Hotaru himself, actually. :3 "Hotarugari" means "firefly catching" in Japanese and it relates more to Yumi's past. It's all revealed next chapter and it's kind of sad. ;A;

MiyukiZ - You wrote out Hotaru's thoughts! XD I'm sure he's telling himself stuff like that right now to try to convince himself to get out of there.

myscreame - Me too! I always think of the candy when I hear the word "lifesaver". I think that Marx brothers movie did that to me. Along with warping my sense of humor. :D
I'm glad you're interested in Yumi's past! It's kinda... tragic. :P But it's fun for me since I like that kind of stuff.

Miro - Well, he'll have to make a decision fast, since poor Yumi has been fighting spiders all this time. If she's not dead yet, she will be soon. >w<
And thanks for the vote! Thanks so much!! <333 I really appreciate it!

Ai Ataru - Haha, well, this is a very cliché, right? Fits right it!
Advertisement
, July 22nd, 2017, 1:40 pm
-
Reader Comments:




you're too good to us /tearplz
agklajfgs all your fanart // so pretty. ;v; i gotta hurry n' make tons for you, bro.

posted by MegamanZDevil on July 17th, 2010, 8:43 pm








HNGGGGGGGG.

GO BACK FOR HER, HOTARU!!!!!!!

posted by MonkeyBoy on July 17th, 2010, 8:45 pm








Second thoughts about leaving without her. :3

posted by Jazeki on July 17th, 2010, 9:10 pm








Yay! Double update! 8D

Guilty is charged~!

posted by gizumimipichu on July 17th, 2010, 9:27 pm








heheheeh . GO ! GO NOW AND SAVE HER ! > u <

posted by angelbliss on July 17th, 2010, 10:11 pm








Hmm I wouldn't do that if I were you.
She's got a gun, you got nothing. You'll only get in the way. Now get out of there! >:(

posted by MayelV on July 18th, 2010, 12:20 am








Um...yeah, Hotaru-chan, don't forget about Yumi-chan! :3

posted by HaKu10 on July 18th, 2010, 3:08 am








[Uh (;.;) reading this page make me kinda sad(mauybe because I am listening to the song"Tori no Uta"?cuz i kinda sad from my view)
And now something came right into my head.I've been thinking that his beads would move a little and jump a little around his neck then then he would think that she died then ... I shouldn't read manga listening to sad songs.( > . <).] So, the rope can be long as the tanuki want?(O w o)
EDIT: So, so you can show me more of you old works?*sparkle* (; w ;)Please show me some if is ok.

posted by ChiakiAida on July 18th, 2010, 3:09 am








Go back for her, Honey(Augh, I've stated calling Hotau "Honey"...how embarassing!)! :D

posted by rinalicat on July 18th, 2010, 6:53 am








I bet all he's really thinking is whether or not her corpse would be worth looting XD If there's anything left after the spiders eat her of course D:

posted by Everlong on July 18th, 2010, 7:54 am





SAVE HER HORTARU! SAVE HER! =O

posted by SolaratheHedgehog on July 18th, 2010, 8:54 am








Ahaha, yeah, second thoughts about leaving without her :p I was wondering, what does the title mean. I think I get the Hotaru part, but not the gari part.

posted by Kinshima on July 18th, 2010, 11:36 am








Maybe,Yumi's dealing with Nephi juustt fine... Hotaru should escape. :D

posted by MiyukiZ on July 18th, 2010, 6:41 pm








YAY, YUMI ISN'T DEAD YET. Go back for her, Hotaru! We will never know her past if you don't, and I'm INTERESTED!!
haha, I think of those candies when I hear "lifesaver"

posted by myscreame on July 18th, 2010, 11:06 pm








TOT I wonder what he'll do now??
(go back for yumi hotaru!)

Oh I voted for you btw! Congrats on the nomination. =D

posted by Miro on July 22nd, 2010, 7:11 pm








GOOOO BACCCCCCCKKKKK.
but wouldn't that be cliche 0:?
Ohwell.
DOOOO ITTTTTTT D:

posted by Ai Ataru on August 1st, 2010, 1:04 pm







come on, man!

escape ropes disappear after you use 'em!

posted by niftyspiffyinajiffy on October 15th, 2010, 8:31 pm