» Comics - Chapter 2 - 20 - September 23rd, 2010, 7:38 pm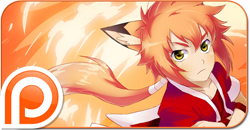 Like Hotarugari? Become a patron and help support it!
Creator's Comments:
salis
, September 23rd, 2010, 7:49 pm
Late, late, late! - Whoa, this page is WAY overdue. So sorry for the wait! A lot of stuff came up rather suddenly for me, (as I'm sure you already know having read the Hotarugari news!) but it's all outta the way now and we are back on track!

Also, preorders for Hotaru t-shirts ends October 15th! And there's only 5 more pre-order slots left! Remember you get a free Hotarugari button when you pre-order, so get yours now while you can!
http://hotarugari.smackjeeves.com/comics/980193/announcement-hotaru-t-shirts/

And since you guys are asking for it, I went and got a FormSpring. So if any of you have questions you'd like to ask me, (either about Hotarugari, my art, how to take over the world, etc.) please ask your questions here: http://www.formspring.me/salisays

Thanks for reading and waiting!

-SAL

P.S. AND THANK YOU FOR 1400+ fans~!!! <333

Reply:

Natashakiable18 - So close! She was so close! >:3

AvoryAzion - Haha, climb like your life depends on it!

NekoKira - Ahahaha, that's exactly what I was thinking when I drew that last panel. XD

SolaratheHedgehog - Climb as fast as you can!

Jazeki - LOL, those are the things I start saying to myself as I read this. XD

godmoderncommander - Haha, climbing a rope and watching out for a spider-lady kinda slows him down takes time! XD

Ponyta - Haha, remembering her hair clip in a time like this?! You must know it's important to the story! >:D And thanks! It's good to be back.

Sindorei - I think so too. Getting eaten by something alive has got to be the worst way to go.
Haha, yes! Yumi should have let that jerk get eaten after what he tried to do to her! It would have been beautiful irony! *v*

abdie the hedgehog - ...Y-you're talking about Nephi, right? XD

Profanity00 - Oh, I know. Talk about nice guy. They totally owe Tanuki now.
Oh my! Thank you so much for letting me know!! I fixed the menu, so it actually goes to the last page now. Yay! :3

DakrWolfDeltas - Ah! I know! She was so close, too!

ZivXanthus - Why thank you, my dear! <3

3eoclock - Haha, but of course! XD Nephi is such a sweet spider-lady...
She's just... misunderstood.

MadMindInk - But there is! :D I'm working on the soundtrack for this scene right now. Haha, but we'll be past all this action before I finish, I'm sure. >_<;

Supersheep64 - Ahahahahaha! Now all he needs is a hat and a whip! XD

HaKu10 - Hee hee, but of course! Yumi can't let her only guide to Ina get eaten! :3

Sound Sythesis - Yeah! The only problem is Yumi jumps from inside the cave to outside every time. Other than that, never ending escape~!! 8D

Hindumaliman - MISS!

ravenanne - Thanks!
Advertisement
, July 22nd, 2017, 1:43 pm
-
Reader Comments:




:O she's gonna get him...she's gonna get him!!! Run! xD.

posted by Natashakiable18 on September 23rd, 2010, 7:56 pm








Run!...wait, I mean climb!

posted by AvoryAzion on September 23rd, 2010, 8:17 pm








That last panel...
I'm waiting for the singers to shout, "WATCH OUT FOR THAT TREE!"
.....
Any time now... >.>

posted by NekoKira on September 23rd, 2010, 8:32 pm





CLIMB HOTARU! CLIMB!!

posted by SolaratheHedgehog on September 23rd, 2010, 8:38 pm








Escape faster! XD

posted by Jazeki on September 23rd, 2010, 8:43 pm








CLIMB!! CLIMB FOR YOUR FREAKING LIFE!!!

posted by godmoderncommander on September 23rd, 2010, 8:50 pm








OMG CLIMB CLIMB AS FAST AS YOU CAN!
Oh! Hairclip...!
And...! Well welcome back :) Thank you for the update too ;)

posted by Ponyta on September 23rd, 2010, 9:28 pm








rape attempt failed.

posted by MegamanZDevil on September 23rd, 2010, 9:28 pm




Re: How much it would suck

How much would it suck to become spider food? Sorry, but that wouldn't be on my list.
Onto the point:
CLIMB YOU, JERKOFF(he did trick Yumi into going there in the first place, so a jerkoff he be)! CLIMB!!!

posted by Sindorei on September 23rd, 2010, 9:29 pm







@sal

You sexy bast you ;3

posted by abdie the hedgehog on September 23rd, 2010, 9:43 pm








They really need to thank that Tanuki guy for sticking around for so long.

EDIT: Hey, the music section is updated! :D
Also, Sal! When we click "LAST" on the menu, it brings up to page 2-19 instead of 2-20. Just to let you know. :3

posted by Profanity00 on September 23rd, 2010, 9:51 pm








Aw. Just missed. Too bad. :P

posted by DarkWolfDeltas on September 23rd, 2010, 10:00 pm








kjsdfoiapjda I effin love your art :D

posted by ZivXanthus on September 23rd, 2010, 10:54 pm








Awwww....

Nephi was totally just trying to give back the hairclip.


I KNOW IT, I HAVE FAITH IN YOU, NEPHI!

posted by 3eoclock on September 23rd, 2010, 11:13 pm








i feel like there should be a soundtrack to go along with all the action!

posted by MadMindInk on September 24th, 2010, 3:20 am








*Indiana Jones theme plays*

posted by Supersheep64 on September 24th, 2010, 8:19 am








Lol @Supersheep64 I like that! :)
Yayyy Yumi~! I knew she'd return the favor! :D

posted by HaKu10 on September 24th, 2010, 10:18 am








You know, you could loop this page and the one before it to create a never-ending story of trying to escape...

posted by Sound Synthesis on September 24th, 2010, 11:55 am








great!

posted by ravenanne on September 27th, 2010, 12:30 am